Many of us were blown away by the forgiveness expressed to Amber Guyger by the teenage brother of Botham Jean. The off-duty police officer was convicted of murder in the shooting death of Jean. After her conviction, Botham's eighteen-year-old brother Brandt stunned us all with an expression of forgiveness that has challenged me to consider anew what it means to forgive as we have been forgiven. You can watch the video of that moment here.
In addition, the redemptive grace of the Gospel was piled on to Guyger by Judge Kemp in a stunning moment in the courtroom. . . which if you haven't watched it, you must watch here.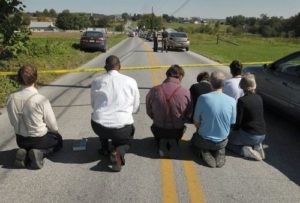 Last week, we followed up in the wake of this story of grace and forgiveness with a discussion on radical forgiveness with some friends who have experienced and who understand the mystery of deep forgiveness, especially as it relates to the way our Amish neighbors here in Lancaster County forgive. It is a compelling conversation that has meaning at many levels. It is moving and it is well worth your time. I've been receiving messages since this episode of our Youth Culture Matters podcast dropped regarding just how powerful the stories are.
I invite you to listen in. Then, think about what it means to forgive as we've been forgiven. . . and what it means to teach our kids to do the same.