The conversation continues. . . and so it should. . . because these things do indeed matter. (Here's what I wrote on Monday). And lest you think that all those who care are only singling out the few minutes and participants we saw on Sunday night, that's not true. What we saw was a brief  and wide-open peek into a widely-held and fast-spreading cultural narrative that's so deeply embedded in our world and ourselves that it is largely invisible. We know that's the case for the simple reason that when it is brought to light, the push-back is that it doesn't even exist. . . or if it does in fact exist, it just doesn't matter.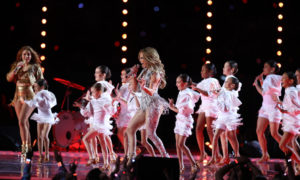 I've been tracking with the back-and-forth on social media. This morning, I ran across some insightful and heart-felt words from my friend Mindy Summers. Mindy is a young wife and mother who six years ago began a ministry to people who are making a living in the sex-industry. The ministry is called "SoLoved." Mindy and her team don't desire any attention, and I asked her permission to share the focus of the ministry and her words. She says, "We are a team of women and men (prayer & security) who reach out to women here locally within the sex industry. Our entire goal is to build relationship & sisterhood with the ladies in the clubs. We want them to know they are loved, valued, seen & that we so enjoy who they are. Every month we bring gifts, homemade treats, handwritten love notes and homemade meals to each club. It has been a true honor & joy. Our vision statement is this: 'Ministering to women in the sex industry, helping them see they are valued and dearly loved by Jesus, and believing for lasting freedom for their lives.'" Mindy and her team are living the Gospel.
Here's what Mindy posted the day after the Super Bowl. Her words are filled with hope, truth, and compassion. . .
After I put my babies to bed tonight I ventured online to see this halftime show everyone was talking about…
As I watched two incredibly talented and beautiful women…my eyes welled up with tears.
This is the thing- I am not sheltered. I spend hours in strip clubs every month. Hours. I've been doing this for nearly 6 years. I've seen a lot of stuff. Our SoLoved team desires to build relationships with the precious women within the walls of these establishments. They are treasures. Most of them are there because of childhood trauma & abuse, lack of opportunity and/or manipulation or coercion. They didn't dream of this. It isn't empowering…it's where they are and they are doing the best with what they've been dealt.
…and the men. The men who go…most of them are sorting out their own brokenness within these walls. Porn addiction, broken relationships, loneliness, power trips & addiction are many of their stories.
The supply for the USE of women is due to the demand. The demand is 100% fueled by a hyper sexualized culture.
This all seems expected within the walls of a strip club, right? Sad…but expected.
If that isn't heartbreaking enough…this. Tonight on a Superbowl halftime show…two super talented women chose to share their God given talents with the football fans by pole dancing and thrusting with little clothes on. In front of the whole world. The moves, the poles, the song lyrics…the sex industry was glorified as empowering tonight.
Let me tell you. That is a LIE. These two ladies choose to shake their tails for the world to gawk at…but there is nothing empowering about women being the recipients of the onlooker's sexual attention. They have body guards to walk them off the stage. Most women just get a can of mace.
We say we are tired of rape, sexual assault and young girls being told their body is what gives them value…BUT THEN we go and we INVOLVE YOUNG GIRLS in the very scene…at a football game…and the crowd goes wild & we clap and praise it.
So dear young girl-
I bet you are super confused. We tell you that YOU ARE NOT YOUR BODY. We tell you that what's inside is what needs to shine. We tell you that you have a MIND AND A SOUL. We tell you to take self defense classes, carry mace, watch out for date rape and don't let a guy pressure you. BUT THEN…we entertain you with pole dancing, thrusting, hyper sexualized lyrics & seductive facial expressions…and we clap for it.
We tell you that women can do anything. Women are equals. Then we bring out two influential women to entertain us…with what? Sex.
Don't buy into the lie. Women do have minds. They also have self respect. The things that are done in bedrooms and inside strip clubs should never be performed on a stage for strangers and children to watch. And you know what…I'm sorry that this is how things are. You deserve a better world. A world where women are empowered and can use their God given talents in ways that don't scream sex. Because again…that's not why women are here.
So dear girl…be proud to be female & don't for one second believe the lies. Keep offering your gifts to the world in meaningful ways. Be kind. Be a friend. Dance. Paint. Sing. Play. Lead. Learn. Grow. Serve. Think. Do hard things. Change the world.
Again- I'm sorry that you live in a day when you can't watch a football game without hyper-sexualization. How sad for us…all of us.
I know there will be some who shrug me off as judgmental and want to rave about how talented these superstars are…and let me just say…yes I know they are talented. No doubt. As for the judgmental part- my heart is not out of judgement…but concern for young girls and the messages we are sending about women. God help us.
Thanks Mindy.
(If you'd like to contact Mindy directly, you can do so at solovedcontact@gmail.com)
Here's a link to one of our favorite books for teenaged girls. . . all about where to find identity in today's sexually-charged/image- conscious world. . . Face Time: Your Identity In A Selfie World.
To learn more about the pressures on our girls, listen to this episode of our Youth Culture Matters podcast. . .
Please note: We have turned off commenting for this particular post. An increasing number of comments lacked civility. It is our hope that our posts and resources result in the kind of civil discussion reflecting respect for one another. Thanks for understanding.