Early on during the pandemic shutdown I was invited in to several dozen Zoom calls with groups of youth workers and parents. While the invites asked me to speak about youth culture trends and kids during the pandemic, I worked to do as much listening as I possibly could. I listened to discover what my in-the-trenches peers. . . both youth workers and parents. . . were being forced to face. Issues that need to be addressed tend to be the things that rise to the surface with urgency during seasons of difficulty, and this has been the case over the last couple of months.
After taking careful written and mental notes, there have been three themes that have risen to the surface that I can state in the form of the questions both youth workers and parents have been asking.
How can we foster the spiritual growth and nurture of kids during this time?
What does teen anxiety look like during the pandemic, and how can we help our kids navigate their anxiety?
What can we do to instill healthy screen time and technology habits in our kids?
Tomorrow, Thursday May 28 at 3:30pm eastern time, I'll be hosting a round-table livestream conversation on both YouTube and Facebook with three individuals who have studied these issues and who have written books for students that are part of the brand new Track series of books for students. This new series is designed to disciple the next generation in the areas of culture, doctrine, and the Christian life.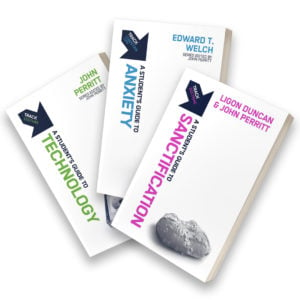 Joining me will be. . .
Dr. Ligon Duncan, the President of Reformed Theological Seminary, has written to address the topic of spiritual growth and nurture. His book in the Track series is A Student's Guide to Sanctification.
Dr. Ed Welch, is a counselor and faculty member at the Christian Counseling and Education Foundation who has written extensively on the topic of anxiety. His book in the Track series is A Student's Guide To Anxiety.
Dr. John Perritt is the Director of Resources for Reformed Youth Ministries, an author, youth worker, and podcast host. His book in the Track series is A Student's Guide to Technology.
When I was asked to host this livestream conversation I quickly saw how each of these books lines up to answer one of the questions I'm continuing to hear from youth workers and parents. I'm looking forward to the conversation and would like to invite you to join us! This will be a practical discussion that I believe will encourage, educate, and equip you with tools to respond to the deep needs of kids and families that have been rising to the surface during the current pandemic. As an added bonus, we'll be giving away some books during the Livestream!
Here are the links for tomorrow's Livestream. . .
You can join us on YouTube: https://www.youtube.com/watch?v=Az4tbGVc_qU
Or, you can join us on Facebook Live: https://www.facebook.com/christianfocus/live/