One of my favorite reminders comes from Francis Bacon, who said that "Histories make men wise." All throughout the Scriptures people, including ourselves, have been reminded to remember. We are called to remember the faithfulness, character, deeds, and promises of the Lord. For the Christian, remembering carries us through the trials and difficulties of the present with a hope-filled eye toward the future.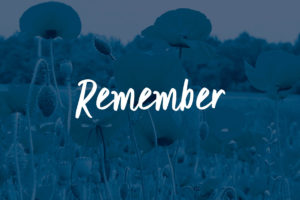 This is a lesson we so desperately need to pass on to our kids. . . especially as the culture teaches them to value the moment with no eye to past lessons learned or even how the decisions we make today might negatively impact our futures. Now is all there is.
My dad passed this lesson on to me. And even now that he's been gone for two months, I continue to hear his lessons speak to me. The pandemic has created frustrations and discouragements for me, as I'm sure it has for you too. While echoes of my dad's lessons have continued to ring in my memory, two days ago I heard his actual voice speak powerfully about my need to remember.
I've been slowly going through the hundreds of Cassette tapes of his sermons, digitizing them so that they might continue to be helpful to others. As I was listening to a recording of his sermon from August 24, 1989 ("The Cure For The Troubled Soul"), I heard him preach from Psalm 77:1&2, 11&12, and  Philippians 3:12-14. Towards the end of the sermon he told this story that has challenged me anew. Perhaps it will encourage you as you struggle with the discouragements of pandemic parenting, or pandemic youth ministry, or just pandemic life-in-general. . .
I know a minister who was passing through one of those dark periods of life and who wondered what God was doing to him. "Why has God left me," he asked?
One day in desperation he took a pen and a piece of paper and wrote out on that paper several sentences. What he wrote was this: "I know that God is all powerful and that this world is in his control. I know that God, the same God who is all-powerful and who controls this world also loves me and is concerned about me. I know that God has called me into his service. I know that since God has called me he will not leave me alone but will reveal his will to me and will provide for my needs. Since I know these facts to be true I will trust God to do with my life what he thinks best."
After he had written these statements down, this minister read them. And what he did was put himself into God's hands. . . and the troubled feeling left him. And whenever it seemed to be returning, he would open his desk drawer and out of the corner would remove the piece of paper on which he had written these sentences. And invariably, as he renewed his trust in God, that troubled feeling would leave.
How do I know what happened in the life of this pastor? I know, because I am that pastor. And this was written many, many years ago. On occasion they are pulled out of that desk drawer to be read.
The fact that we need to remember is because God's power has been revealed in the past.
Thanks again Dad.