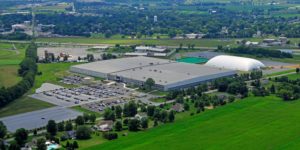 Every time I pass it with an out-of-town friend in the car, I point them in its direction and watch their eyes fill with wonder and awe. Spooky Nook Sports sits just off the highway among farmers' fields just a few miles from my house. Billed as the largest and most innovative sports complex in the country, it features over 700,000 square feet of indoor space and over 50 acres of outdoor fields. The building even boasts a restaurant and hotel. It's amazing. Not only does it serve our local community well, but people come from all over to participate in tournaments and championship events year-round.
Because it sits midway between our house and our church, I pass the complex twice every Sunday morning. It's not at all unusual to see fields covered with young athletes, stands filled with parents, and parking lots filled with cars as early as 7:30am on what used to be more commonly referred to as "The Lord's Day". In many ways, this fabulous facility provides a window into our culture's dark side, as the schedules of its clientele serves to expose the reality of what's become most important, at least for the moment, in the lives of so many families.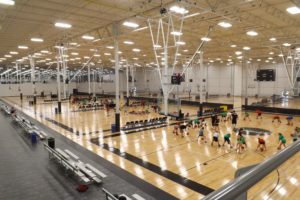 While there are a multitude of worthwhile and good activities that parents are able to pursue with their kids, organized sports could very well be at the top of the list of those things that take up more and more of our time, our money, our energies, and our efforts. And when we add something to an already full calendar, it is necessary for us to subtract and sacrifice something else. In today's world, that "something else" is oftentimes the very thing that we should never subtract – our designated time spent in community nurturing our souls in the Christian faith through worship, study, fellowship, prayer, and service.
Someone once said to me, "You tell me who or what you spend your time doing, and I'll tell you who or what your god really is." As a Christian, I found that question to serve as an incredibly annoying yet much-needed kick in the pants. With so much money and time being funneled into youth sports these days, we have to take time to consider if our family sports involvement (or involvement in any other activity!) has moved beyond being a good thing, into becoming an ultimate thing. If it's the latter, then we have allowed it to become an idol.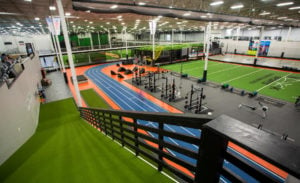 I increasingly hear youth workers lament the destructive role that the good gift of youth sports plays in the lives of far too many of their students. One frustrated youth worker recently shared this message from a mom: "I'm afraid that Dylan won't be able to continue his involvement in church and youth group this coming year unless you change your meeting dates and times. Between his soccer and basketball commitments, he is tied up with practice and games during the weekend, and every weeknight except Tuesdays." Dylan is not only developing skills in soccer and basketball. He's also being nurtured into developing priorities and allegiances he will most likely hold for the rest of his life.
Parents, whatever you deem – through words, time, money, and example – as most important will nurture your kids in a direction of a lifetime of commitment to that particular thing. As Christian parents, our unshakable priority needs to be to make time and space to see them seek first to live with Jesus Christ as their Savior and their Lord.