Youth ministry. . . so many things to do. But what youth ministry task is most pressing, priority one, and our greatest responsibility? If we are primarily called to lead young people to Jesus and equip them for a life of following Him then our primary task is to – as Paul said to a young Timothy – "Preach the Word!"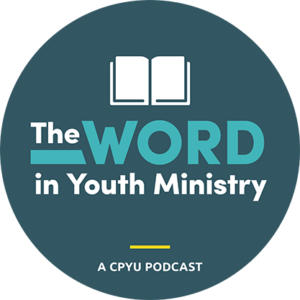 I was reading Ephesians this morning and this task was hammered home by Paul with these words: "And he gave the apostles, the prophets, the evangelists, the pastors and teachers, to equip the saints for the work of ministry, to build up the body of Christ until we all attain to the unity of the faith and knowledge of the Son of God, to mature manhood, to the measure of the stature of the fullness of Christ, so that we may no longer be children, tossed to and fro by the waves and carried about by every wind of doctrine, by human cunning, by craftiness in deceitful schemes. Rather, speaking the truth in love, we are to grow u in every way into him who is the head, into Christ." (Ephesians 4:11-15).
It's to that end that we have launched a brand new podcast by youth workers and for youth workers. The Word In Youth Ministry is hosted by boots-on-the-ground youth workers Kyle Hoffsmith, Linda Oliver, and Matt Beham. It's all about effectively teaching the Bible and theology to our students so that we might facilitate their growth from spiritual immaturity to spiritual maturity. Sadly, I think we've been easily sidetracked from this primary task not only by our youth ministry busyness, but by the progressive spirit of the times that downplays the life-giving balance of giving kids truth and grace.
We introduce you to the team for this brand-new youth ministry podcast in our latest episode of Youth Culture Matters. And, the pilot episode of The Word In Youth Ministry has dropped as well. I couldn't be more excited!