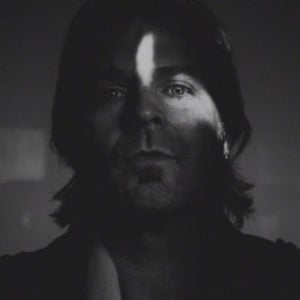 This morning I woke up to another story of a high profile child of the church and current leader who has announced they have moved on from the faith of their younger years, into a period of spiritual deconstruction. Kevin Max, the 53-year-old original member of the trio known as DC Talk is now calling himself an "exvangelical". . . which I have to admit, is a rather creative moniker.
I was first introduced to DC Talk on the very night when they were publicly performing for the first time. I had taken kids to the DC'88 conference run by Youth For Christ back in 1988, and the group appeared onstage to sing just one song – "Heaven Bound"- which brought the house down. Kids loved it. The response was so positive, in fact, that they were invited back the next night to sing again. Interestingly, they sang the same number. I've since heard the complete story about how they made their way onto the DC'88 stage (a great story for another time) with only one tune in their arsenal. Now, 33 years later, we know the rest of the DC Talk story. Since then, Kevin Max has spent his life encouraging kids to embrace the Christian faith. Now, his influence continues, but with a new trajectory.
Make no mistake, the process of deconstruction is necessary from time to time in order to lop off the fluff of misguided forms and the troubling falsehoods evangelicals have been known to embrace. As an evangelical, there is much in terms of evangelicalism's fluffs and falsehoods that I've found repulsive and incredibly embarrassing. Self-examination under the bright light of God's Word should be a 24/7 endeavor. Our warts and blemishes have to be discovered, examined, and eliminated. That's the kind of deconstruction that purifies. It drains the dirty bathwater while keep the baby safe, secure, growing, and strong.  I hope I've done that well in the midst of other brothers and sisters who are committed to doing the same.
And while I don't really know if this is what is happening with Kevin Max, my suspicion (I hope I'm wrong!) – due to his self-description of what's happening in his life – is that his "progression" is not a growth in deepened faith grounded in the truths of God's Word, but a progression in theology that he sees as a kind of awakening. . . an awakening which is taking him away from historic, orthodox Christianity, into reconstructing something that's "grounded" in his own intuition. Time will tell. But the public nature in which we see folks embarking on these journeys these days so readily invites in their followers who are already "less-than-grounded" in their faith, and eager to follow these more high-profile and increasingly well-traveled roads. Typically, these stories of deconstruction end up draining faith of truth. . . leading into a kind of self-made and intuitive faith-replacement that is ultimately a god-less religion which takes it's place. I hope this story doesn't end this way, but one has to wonder.
As I read Chapter 6 in the book of Daniel this morning (take some time to read it now, if you would), I couldn't help but think that Daniel had every human reason to "deconstruct". However, he remained "a minority of one," as James Boice tells us in his commentary on Daniel 6. He was one man standing alone. . . faithful to his God. . . in the midst of a pagan culture.
What's the takeaway? As the current of culture shifts, be aware lest you allow yourself to get caught in the riptide of "the course of this world." Take care lest it catch you up unaware. . . pull you under and ultimately do you in. Sadly, these days, many wander into the riptide willingly as they follow along with the rest of the crowd.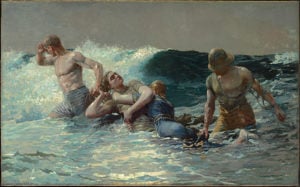 As I've been thinking about the trend toward deconstruction that throws out the baby with the bathwater, I thought about a Winslow Homer painting my friend Russ Ramsey posted on Facebook the other day. Winslow Homer's art has always intrigued me because of our shared love for the New England Coast. . . a love I developed several years ago when Lisa and I spent our first married years living near the edge of historic Salem Harbor on the North Shore of Massachusetts. The painting that Russ posted was Homer's "Undertow." The painting depicts an event Homer witnessed in Atlantic City back in 1883. Two muscular rescuers are dragging a pair weary and waterlogged women out of a deadly rip tide. Art critics say that despite their masculinity and muscle, the rescuers themselves appear frail next to the the power of the sea. The women look to be almost done in. The rescuers are weary. . . but they are moving themselves and the weary women in the right direction. Today, I'm looking at this painting as a metaphor for youth ministry, Christian parenting, and life in today's world.
Put a stake in the ground and tether yourself to it. Youth workers. . . teach your students the Word with diligence, urgency, and passion (a task we are working to equip your for with our new "The Word In Youth Ministry" podcast). Parents, do the same (listen in to this week's episodes of our 1-minute "Youth Culture Today" daily podcast). Evangelical churches. . . lop off the fluff and falsehoods.
The Psalmist says this in Psalm 111:7&8: ". . . all his precepts are trustworthy; they are established forever and ever, to be performed with faithfulness and uprightness."
C.S. Lewis reminds us in his book "The Weight Of Glory", that "Obedience is the road to freedom."
Lord, once again we pray. . . save us from ourselves. Amen.
To learn more about the trend toward spiritual deconstruction, listen in to my conversation with Alisa Childers on this recent episode of our Youth Culture Matters podcast. . . 
Parents. . . to gain daily help and encouragement for your high calling to parent your kids in today's world, be sure to listen in to our daily Youth Culture Today 1-minute podcast. . .