It's the shortest book I've ever written, but perhaps the most important.
Youth workers and parents alike realize that the cultural narrative which shapes kids' understanding of what to believe and how to live is pervasive, attractive, convincing, and compelling. Consequently, our need to teach kids how to navigate culture to the glory of God is one that's urgent. How will they make decisions about things like sexuality, gender, love, money, time, play, academics, relationships, and so much more? They need to develop skills in discernment. . . how to think critically, Christianly, and biblically about all that they encounter in life. That's why I decided to take some of the best of our 32 years of work here at CPYU and put it into a short and easy-to-follow guide that students, youth workers, and parents can engage with together in order to develop discernment skills that will serve kids now and for the rest of their life time.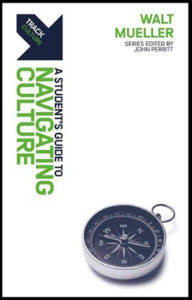 A Student's Guide To Navigating Culture is not about describing cultural trends, but rather a book that teaches cultural discernment skills that can be used both now and in the future as culture shifts and morphs at breakneck speed. It's a book that teaches kids to think first. . . and how to think. . .  so that they might follow their thinking with counter-cultural living that pushes back on what Paul calls "the course of this world."
In the book, students will learn to come to an understanding of what culture is and how it functions in their lives. They will be taught the basics about the concept of worldview and why it is important. They will learn to compare and contrast the world's story with God's story. And, they will learn how to live Christianly in culture.
As I was writing, I decided to develop a simple little filtering framework. . . a three-step process. . .  that kids can use to develop biblical discernment. . .
The first step is to look at the world. What is the cultural narrative teaching? And, how is that forming beliefs and behaviors?
The second step is to look at the Word. When put under the bright, illuminating, and corrective beams of God's Word, where is the culture getting it right, and where is the culture getting it wrong?
The third and final step is applying Biblical truth as it relates to cultural matters to my individual walk.
While this three-step process of cultural evaluation can be used with any type of cultural trend or artifact. . . making A Student's Guide To Navigating Culture a great tool for youth workers and parents to re-visit regularly with students. . . I provide two final chapters that offer examples of how to go through the process as I look at world-Word-walk on two current issues. . . how we think about gender, and how we used social media.
Here at CPYU, we are offering the book in 10-packs so that you can get them in the hands of all your students. To learn more and to order your copies, click here.