What questions are your kids verbalizing and pondering as they hear about and process
the war in Ukraine? How are they responding to the humanitarian crisis, the fighting, and
the knowledge that these things are not just something that happens somewhere else, but
which could very well sometime happen here? When crisis hits, our thinking shifts from
focusing on the normalcy of our everyday routines, to pondering how to respond to life
turning upside-down. Our kids are primed and ready to listen and learn if we are willing to
use this time to help them view and navigate the 24/7 newsfeed about the Russo-Ukrainian War through the lens of God's Word.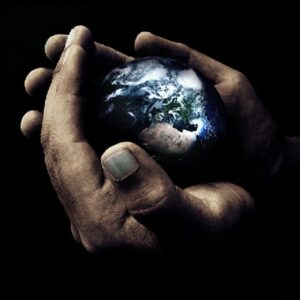 A teachable moment has been thrown into our laps, giving us the opportunity to fulfill our high calling as parents and youth workers to nurture our children and teens in the Christian faith. To do so will not only help them in their day-to-day efforts to process the realities of this war, but it will prepare them for a lifetime of walking through difficult circumstances, pain, suffering, and heartache with a proper outlook and understanding. What we teach them now will help them manage their fears and anxieties not only during these current days, but for the rest of their lives!
As I have traveled through the confusing emotional and spiritual maze of the last few weeks, the reality of a truth contained in the Bible from cover-to-cover is one that I must lean into in order to gain a peace-filled perspective and great comfort. This truth is serving to sustain and embolden our Ukrainian Christian brothers and sisters
enduring the unimaginable events that have turned their lives upside-down. That great truth is a doctrine known as God's providence.
This week, we put together a little tool to help you teach/lead the kids in your home and youth group into the perspective-shaping knowledge of God's Providence. We invite you to download and use this tool, The War In Ukraine: A Teachable moment for our kids, which you can find here.