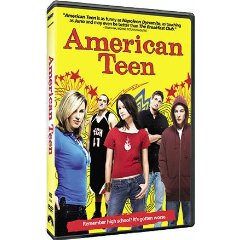 Every once in a while a film comes along that I have to recommend to everyone who knows, loves, lives, or works with teens. About a year ago, I heard about a new independent documentary set for release in July, 2008. The film, American Teen, follows five Warsaw, Indiana High School seniors and their peers as they experience their last year on campus while planning for what comes next.
Sadly, American Teen saw a very limited theatre run in just a handful of cities. I was communicating regularly with the production company to schedule an exclusive showing at a theatre here near our CPYU offices. It never worked out. Since then, I've been looking hard for a copy of the film so that I could not only see it myself, but to schedule a screening and discussion. The good news is that American Teen is now out on DVD. And finally, we've been able to schedule a screening, lunch, and discussion here in the Central Pennsylvania area on Thursday, April 2. If you're considering joining us, you can check out the details here.
American Teen offers a wide open window into the rapidly changing world of today's youth culture. It's a fascinating film featuring some very lovable, insecure, and conflicted teens. If you view the film through eyes of faith, you will be moved by what you see. American Teen also offers lots to discuss and lots we need to answer through our ministry and parenting efforts.
I know that only a limited number of you can join us as we watch the film together. If you aren't able to watch with us, set up your own viewing and discussion party. We'll be posting some more information on our website very soon, including a 3D review of the film, and a list of helpful questions to guide your discussion.
Please give American Teen a good, long, hard look. It will open your eyes to a world and teenage experience that's different from the one you knew.