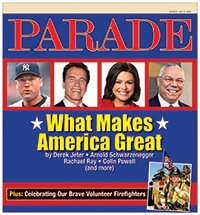 Did you happen to catch the cover of yesterday's Parade Magazine? It was right there in my Sunday paper yesterday morning where it always is, buried in the weekly stuffing made up of colorful sale flyers advertising all kinds of stuff I'm told I need. The words splattered across this Fourth of July weekend edition caught my eye: What Makes America Great. The featured headline hasn't yet made me open Parade and read the article, but it did get me thinking further on a thought-track God's been leading me down for several months.
I would guess that while our answers might differ, most Americans would include the word "freedom" somewhere in their own personal explanation if they had been given the task of writing the Parade article. I certainly would. The freedom to worship, to examine ideas, and to express one's beliefs rank up there at the top of my list.
But what was sparked in my mind was a more negative response. Granted there are many things that make America great. But those very things that we say make us great can also be at the root of our demise and even failure if we don't exercise prudence and responsibility with the blessings and freedoms we've been given. At times, we abuse our freedoms when we aren't responsible stewards of what we've been given. Lest we forget, responsible stewardship starts and ends with Kingdom living. What God values as great is not always the same as what Americans value as great.
That Africa trip is sticking with me. When I looked at Parade's cover I thought about the great economic freedom we've been given, and the blessings that have been piled on many of us. Then, I thought about the new seminar I'm preparing for this fall's National Youth Workers Conventions. It's about teenagers and narcissism. In fact, I did an interview last week where the interviewer asked me about the most alarming trends present in today's youth culture. I started with narcissism and we never moved on to anything else. Which got me thinking about one of the books I'm reading right now – Tim Keller's Ministries of Mercy: The Call of the Jericho Road. Keller writes about our human nature and the things we choose to focus on in life: "God's 'center' is his own glory; he does everything because it is consistent with his own righteous, holy, perfect nature. We, however, 'center' on our own glory. Therefore, there is an inevitable collision between God and man." What I'm realizing is that what makes America great, could be the very thing that makes America and Americans bad. We have because God has given. Yet, we hoard because we're focused on ourselves.
If this wasn't enough, our youth pastor, Troy, preached yesterday. It was one of the best and most challenging sermons I've ever heard. It was the first in a series of sermons on money, possessions, and Kingdom-living stewardship. Troy's text was Luke 12:13-21. It's the passage we know as the Parable of the Rich Fool. Give it a read. As Troy read the text the cover of Parade came to mind. My house came to mind. My kids came to mind. My greed came to mind. Africa came to mind. Our Compassion child Ibrahim and the squalor he lives in came to mind. Then, there was this fact from the parable. . . that a "man's life does not consist in the abundance of his possessions." In addition, there was the reminder of a more Godly perspective on life. We store things up in preparation to take care of ourselves in the future. We get enough, and then we say "take life easy; eat, drink, and be merry." I couldn't help but think, is retirement as we know it, embrace it, plan for it, look forward to it, and practice it here in the U.S. biblical? I don't think so.
Something happened during our time in Africa that was like throwing gasoline on the simmering fire of questioning and trying to figure out my greatly-blessed lot in life. Over the course of our trip, several of us confessed to the struggle we were having with our origins. We were asking things like "God, why was I born where I was born? Why were my kids born where they were born? And why have we been given so much?" There was some guilt as well. The answer to these questions were given to us in a very obvious can't-miss-it manner. We were sitting at the Compassion project in the midst of the Mathare slum. I described that horrid place back on June 3. The pastor was talking to us about the work they were doing there in Mathare and thanking us for our interest and support. At one point he told us that he wasn't going to beat around the bush but be very direct. "We pray that God will continue to bless you with great riches. We know that if God blesses you with great riches, you will pass it on to us and continue to support our work."
That's why I was born where I was born. And America will only be great if I understand and live out that fact. Otherwise, the God I claim to follow and serve will one day look at me and say, "You fool!"