When I was a little guy there was an aspect of my Dad's life that I found incredibly troubling. . . . so troubling in fact that I wondered what was wrong with him. It had to do with his birthday. Every year when his birthday was coming up we'd excitedly ask him, "Hey Dad, what do you want for your birthday?" His reply was always the same – "Nothing." That was it. In contrast to my carefully prepared and usually long list of birthday wants, this guy was boring. Nothing. We'd press him on it and then he'd cave and put something like this on his list – "All I want for my birthday is children who behave." That was a quick move from nothing to an unbelievable amount of pressure. To be honest, I'm not sure he ever got that gift.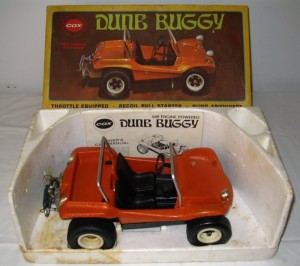 It was different for me. I still remember with crystal-clear clarity my 12th birthday and the gift I received. It was little Cox gas-powered dune buggy. Man, did I ever have fun with that thing!
Once I became a dad who had several kids and quite a few birthdays under his own belt, I began to understand my dad's sad and sorry birthday request. When I heard myself answering the question with a quick "nothing" I not only knew that I was getting old, but I knew then that my dad was satisfied with what he already had. Not only was I satisfied, but I even found myself spouting off about "children who behave." Yeeesh.
My birthday is tomorrow. For the most part, it won't be any different than any other day. When I was a kid, I could hardly sleep the night before my big day because, after all, the next morning was my own personal Christmas in July. Tonight, I might have trouble sleeping, but that will be for other reasons!
Last night, Lisa asked me what I want for my birthday. A simple "nothing" was all I could muster up. After some thought I did add a little hint about a mileage computer for my bike, but other than that I can't think of anything else.
To be honest, if it wasn't for Facebook, I don't think I would have even had a passing thought about my birthday coming up. My wall is already filling up with birthday greetings from Facebook friends that serve as wonderful reminders. And, since July 1 the folks at Facebook have been reminding me that my birthday is coming. I've been getting these daily messages that say, "Happy (almost) Birthday Walt! This year, donate your birthday to a cause you believe in." (The crazy thing about this Facebook reminder is that the number "36" keeps showing up with birthday candles on top. Sorry guys, wrong number. I'm actually turning 53 tomorrow.)


Still, the folks at Facebook got me to thinking. Based on their prodding, I'm going to ask you to celebrate my birthday with me – which will be quite boring otherwise – by inviting you to donate to a cause I believe in. I know it's a cause you believe in as well. Over the course of my last 20 birthdays I've been the President of the Center for Parent/Youth Understanding. Our ministry depends on the gifts of people like you to sustain us. It's no secret that non-profit ministries like ours see a downturn in giving every summer. This summer is no different. Add the economy to that reality and it's been a bit more difficult. Your gift isn't for me. Rather, it's to sustain our ongoing work through these leaner summer months. If you'd like to celebrate with me by donating to our CPYU cause, just click here. No wrapping paper or card is needed. All of us here at CPYU and those we serve appreciate your kindness!