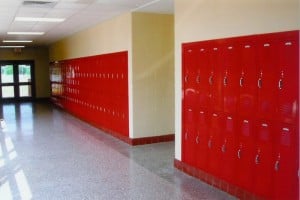 I didn't make it to my 35th high school reunion a couple of weeks ago. In fact, I haven't been to any of the reunions held over the course of the last three-and-a-half decades. I either lived too far away or had something else already planned. Still, that hasn't stopped me from spending some time over the last two weeks checking out the photos and video from the reunion that have been posted in various places on the Internet by my classmates. The exercise has stirred up some pretty weird stuff for me.
First, there's that nasty obsession with appearance that seems to rear it's ugly head even further than usual whenever reunion time draws near. I've watched it happen with lots of friends and relatives. You know how it works. . . . diets, amped up exercise, looking for the right clothes, tanning, hair color, etc. The old appearance game that occupied so much of our time during high school gets started all over again. Maybe our adolescent insecurities don't totally disappear after all. Does the teenage pecking order really extend far beyond the teenage years? For my class, our bodies have been pounded for 35 years not only by the hardships of life, but by a growing wave of "you are what you look like" media messages that haunt us as we look in the mirror at what time and gravity have done. Our obsession with the outside has created the opportunity to select from a thick catalog of anti-aging creams, devices, and programs that promise – without actually saying it – to achieve the impossible. . . that is, to undo the effects of the fall. And lest you think that I exclude myself from this type of thinking, think again. I seriously wonder how seriously I would be taking all this if I had, in fact, scheduled a trip to my reunion. Because I wasn't there, it's easy for me to sit back with the snapshots and videos while playing the game of who looks the most like they used to and who . . . well, you know. Some of my classmates look just like they used to. . . even better! Sure, age has taken a toll on us all. But it's been kinder to some more than others. Gray hair, wrinkles, belly extension, and the absence of hair appeared to be in abundance. And then I wonder what marks the march of time has left on me. And when I turn away from the mirror to look inside, I realize how easy it is to get all caught up in the idolatrous sin of vanity.
Second, there's that strange sense that being with people you haven't seen for 35 years takes you back to who you were in relationship to others when you were all struggling with adolescent insecurities. I've only seen a handful of my high school classmates since graduating in 1974. I've kept up regularly with no one. When talk of a reunion started to stir and a Facebook group was created to get us all connected, I was in the loop. People I rarely spoke to were suddenly paying attention to me. . . and it was weird. One classmate and I exchanged emails after the reunion. She told me that on reunion day, "time stood still. . . no. . . it actually went in reverse!" I think I know what she meant. For me, memories of struggles and insecurities that no one else knew about at the time got stirred up. It was a very odd feeling as I believed these things were long forgotten. I was reminded of just how hard the adolescent years were.
I pondered all this while I was out for a bike ride yesterday afternoon. I couldn't help but bounce back and forth between my renewed sense of the difficult experience of growing up in the late 60's and early 70's, and my endeavor to understand and analyze the adolescent experience in today's world.
As I finished my ride, I contemplated some things I know. First, being a kid is difficult. At least over the course of the last sixty years in America it's been this way. Not only that, it's gotten increasingly harder. Sin is manifesting itself in ways you and I could never have imagined. Second, kids are dying to be understood, loved, nurtured, and led as they pass through the earthquake of adolescence. Our involvement is crucial. Third, we are – as always – prone to make big those things that should be so minuscule that we don't even notice them. . . like our obsession with popularity, appearance, and significance in the eyes of others. Fourth, that third thing offers clear evidence of our yearning for redemption and restoration. We look inside and outside of ourselves and we realize that things are not the way they're supposed to be. That reality sends us in some pretty sad and sorry directions. Finally, I realized with gratitude that I had a host of people throughout the course of my own adolescence and adult years who have consistently pointed me to the only source of restoration, hope, and redemption. And even in the midst of finding myself getting tripped up and tempted to pursue old ways, I'm grateful for The Way, The Truth, and The Life.