Did you watch any television coverage of what's happening in Haiti over the weekend? I hope so. It is challenging. Yesterday, the TV coverage provided so many compelling pictures and stories that it's hard to sort them all out. Two stand out.
First, there is the horrible suffering of the survivors who are waiting for food, water, and medical attention. Last night, 60 Minutes aired a harrowing piece on a trio of American orthopedic physicians who are trying to make some kind of dent in terms of meeting needs. During the piece, viewers saw bulldozers dumping bodies into dump trucks as if they were piles of dirt. At one point, a physician explained how there are no surgical instruments. While he was talking, one of his associates could be seen in the background removing the leg of a child with a rusty hacksaw. That's just one of hundreds of thousands of stories.
Second, there were the stories on the resiliency and faith of the Haitian people. They gathered to worship, pray, and praise God in the midst of the suffering. That was a nice contrast to the ridiculous comments made by Pat Robertson.
Before going to bed last night, I picked up the copy of God is No Stranger – the Haitian prayer book sent to me by my friends at Compassion International that was first published in 1970 – and looked once again at the simply written prayers of the Haitian Christians who had been converted from Voodooism. One of those prayers jumped off the page in light of last week's earthquake.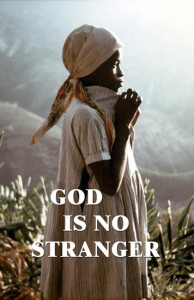 Lord,
Help us not connect ourselves to
things,
we may have four dresses today,
but maybe there will be a time
when we won't have any.
Help us to connect ourselves
to God's Word.