This morning I finished my writing for the next edition of Simply Youth Culture, the great little resource we're now doing with our friends over at Simply Youth Ministry. One of the things we include each time is a culture image. It's something from/in the world that we can look at to not only understand the world, but to spark discussions with our kids. This time I focused on an ad from Diesel's Be Stupid campaign, a marketing strategy that includes a heavy web and print presence.
The ad (seen below), contrasts smart and stupid by drawing a disturbing and unnecessary line between practicing creation and critique, leaving the impression that we are to avoid the "smart" nature of critique, while embracing the "stupid" life of creation. The ad appears in print in a portrait format, while here you see it in landscape format. Because it's creative, it must also be stupid! . . . which in this context, is a virtue.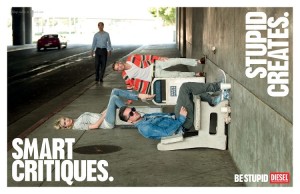 The ad must be seen in the overall context of the campaign, which is laid out with the crafty two-minute video that lays out the credo our kids are to embrace and live. As with everything else, there's a mix of truth and lies, good and bad.
Diesel is a company that has never failed to stretch the creative envelope – yep, they live by their own "Be Stupid" credo – thereby serving to both map out and mirror the culture of our kids. For that reason, this is one campaign worth looking at, dissecting, and talking about in our youth groups and with our kids. The video and a whole series of visual ads can be found on the Diesel homepage. The ads should provoke thought and discussion on a variety of topics including critique, the creation mandate, wisdom, authority, narcissism, and what makes for "successful living" . . . which is the tagline incorporated into the Diesel logo.