As if there isn't already enough weirdness about me that's evident to those who know me, let me reveal two little idiosyncrasies that to this point have remained locked in my brain and therefore, known only to me. Both have to do with time.
The first is that there's a song that's been stuck in my head since 1976. I don't know why it's there or why it rears its head and starts to loop even when I'm not thinking about it. It's not the entire song, but just a little piece of the title cut from Steve Miller's classic Fly Like An Eagle album. The line ingrained in my brain is this: "Time keeps on slippin', slippin', slippin', into the future. . ." While I don't know why it's there, there's a part of me that's glad it is for the simple reason that it's absolutely true. . . and it reminds me of what I need to know.
The second reality is related, as it too has to do with time. I have this little habit of measuring my life in what I call "this time's." You know, thinking about what happened "this time last year. . .", or what's going to happen "this time next week." The habit hit me hard when I was in college. Finals week was filled with things like "this time tomorrow my humanities final will be over," etc. Over the years, it's become a way to categorize, remember, and look forward to the markers of my life, both the good and the bad.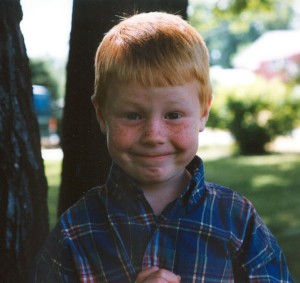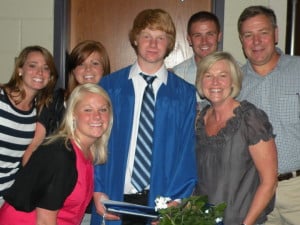 Last night I watched my youngest child, 17-year-old Nate, graduate from high school. This time 18 years ago he wasn't even born. This time 18 years ago seems just like yesterday. This week, as I was sorting through photos of Nate's short life, I realized, once more, just how true that bit from the Steve Miller song really is. We moved to Elizabethtown almost 19 years ago. Caitlin, our oldest, started Second Grade. I would go to the high school track to run during the day. I can still remember sharing the track with the high school students who had come out for gym class. I remember looking at them and thinking that some day – a day that's pretty far off – my kids would be on that track for gym class. Caitlin graduated this time eight years ago. Her three siblings are now all graduated as well. Where did the time go?
The Psalmist gives us the accurate perspective, telling us that our "days are like an evening shadow" and we "wither away like grass" (Psalm 102:11). We are told that our "days are like grass," we "flourish like a flower of the field, for the wind passes over it, and it is gone, and its place knows it no more" (Psalm 103:15&16). In the context that immediately follows these truths, we are reminded that God is "enthroned forever" and that "the steadfast love of the Lord" is eternal. . . things that remain absolutely certain and true as time keeps on slippin', slippin', slippin' into the future.
Last night those realities were on my mind as I sat and observed the graduation ceremony. Nate sat through graduation speeches delivered by some very bright and talented peers. Like most graduation speeches, these were about writing your own story, determining your own destiny, and leaving your mark on the world. They oozed optimism. But I'm not sure they captured reality. In many ways they reflected our shared tendency to build our lives on the faulty foundation of human, rather than Divine, sovereignty.
Nate and his classmates were reminded several times last night that they have their whole lives ahead of them. I remember hearing that same message in the yesterday that was June, 1974. My prayer for him and his peers is that as their grass-like lives fly by, that they would live under the sovereignty of God, rather than the sovereignty of self.
For that reason, I turned this morning to this prayer in my Valley of Vision Puritan prayer book and prayed this prayer for myself, Nate, and his peers.
O LORD,
I am a shell full of dust,
but animated with an invisible rational soul
and made anew by an unseen power of grace;
Yet I am no rare object of valuable price,
but one that has nothing and is nothing,
although chosen of thee from eternity,
given to Christ, and born again;
I am deeply convinced of the evil and misery of a sinful state,
of the vanity of creatures,
but also of the sufficiency of Christ.
When thou wouldst guide me I control myself,
When thou wouldst be sovereign I rule myself.
When thou wouldst take care of me I suffice myself.
When I should depend on thy providings I supply myself,
When I should submit to thy providence I follow my will,
When I should study, love, honour, trust thee, I serve myself;
I fault and correct thy laws to suit myself,
Instead of thee I look to man's approbation,
and am by nature an idolater.
Lord, it is my chief design to bring my heart back to thee.
Convince me that I cannot be my own god, or make myself happy,
nor my own Christ to restore my joy,
nor my own Spirit to teach, guide, rule me.
Help me to see that grace does this by providential affliction,
for when my credit is god thou dost cast me lower,
when riches are my idol thou dost wing them away,
when pleasure is my all thou dost turn it into bitterness.
Take away my roving eye, curious ear, greedy appetite, lustful heart;
Show me that none of these things
can heal a wounded conscience,
or support a tottering frame,
or uphold a departing spirit.
Then take me to the cross and leave me there.
My prayer is that for the days we've each been given and this time whenever, these words would reflect the desires of us all.