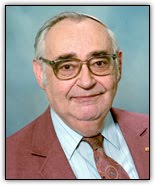 Yesterday I received word that Dr. Roger Nicole died on Saturday afternoon. I had the privilege of having Dr. Nicole as one of my theology professors at Gordon-Conwell Theological Seminary back in the early 1980s. He was a fascinating and brilliant man who loved the Lord with great enthusiasm, loved God's Word, loved teaching, and loved his students. In fact, he oozed all those loves. Dr. Nicole brought theology to life for me. When he died, he was 95 years old and still sharp as a tack. Along with my great memories of his teaching in the classroom, there are two other memories of Dr. Nicole that I will never forget.
There was the first time I ever met him. It was early March of 1981 and I was doing campus ministry with the Coalition for Christian Outreach. Our annual Jubilee Conference was going on in Pittsburgh. Like many other CCO staffers, I had been asked to host one of the Jubilee speakers for the weekend. I had requested Dr. Nicole as I had heard so much about this wonderful man. On Saturday, Dr. Nicole and I went with my wife-to-be, Lisa, to have lunch in a small deli in Pittsburgh. While we were sitting and talking, the TV up in the corner reported that Chet Bitterman, a Wycliffe missionary who had been kidnapped weeks before in Columbia, had been found dead. Our conversation stopped as we stared at the television. I remember feeling a huge hole in my gut at hearing the news. In the midst of our silence, Dr. Nicole spoke up with that deep voice of his that was marked by his French-accent. He looked at us and said, "The blood of martyrs is the seed of the church." As a young man, I had never heard anyone say that before. I now know that those words were not original to Dr. Nicole, nor did he ever claim that they were. He was simply doing what he had used his words to do his entire life. . . tell the truth. I remember sensing great hope in those words as the Bitterman story was now couched for me in the bigger picture of the sovereignty of God. That moment left an enduring impression on me.
When I arrived on Gordon-Conwell's campus a little over a year later, I was thrilled to be able to plug into classes with Dr. Nicole. In fact, it was from one of his classes that I was plucked by a security guard to meet my wife at the doctor's office as she had gone into labor with our first child. Near the end of one semester, I had handed in a theology paper that I had labored on for quite some time. Later that night, I was at home reading my copy of the paper when I realized that I had accidentally flipped a couple of footnotes around into the wrong order. I went to my friend Mark Dever, who was Dr. Nicole's Byington Teaching Fellow at the time, to see if I could get the paper back to make the correction. Mark and I wandered into Dr. Nicole's corner office in the basement of the library. . . an office that I remember was stacked and cluttered with all sorts of books, papers, etc. . . the sign of a brilliant mind, I guess. The room was dark. We walked over to Dr. Nicole's desk to find my paper in a large stack, when we were startled by a loud noise behind us. We looked at each other and laughed. There on the couch, sound asleep and snoring, was Dr. Nicole taking an afternoon nap. He was in such a deep sleep that we could have been elephants and he would have never woken up. That experience made a man who was already human to me that much more human.
I haven't seen Dr. Nicole for years. But the words penned by Don Sweeting, President of Reformed Theological Seminary in Orlando, in a blog post about his visit with Dr. Nicole just a few weeks ago, are not at all surprising. . . .
"Dr. Nicole spoke of his own retrenchment, not with deep complaint, but with a proper sense of realism and lament that comes from any loss. There was melancholy in his voice as he reminisced about days gone by and noted what he no longer had. But then he paused in the conversation. And with all the vigor of his French accented English emphatically exclaimed—"but I have joy." And this, he said, could not be taken away! Not only that, but Dr. Nicole clearly understood that his present retrenchment is a season as well.
We ended our visit by opening up the Scriptures and reading together from Psalm 16. That great psalm begin—"Keep me safe, O God, for in you I take refuge. . . . I said to the LORD, 'You are my LORD, apart from you I have no good thing. . . . You have assigned me my portion and my cup. . . . Therefore my heart is glad and my tongue rejoices.'"
It was with particular eagerness that Dr. Nicole recited from memory as I read the last part of the psalm. "My body also will rest secure, because you will not abandon me to the grave, nor will you let your Holy One see decay. . . . You have made known to me the path of life; you will fill me with joy in your presence, with eternal pleasures at your right hand."
Seeing beyond our seasons of accumulation and retrenchment, Dr. Nicole clearly had his eye on yet another season, which for him, seemed just around the corner."
Dr. Nicole lived well and died well. I hope I can do the same.
For those who might enjoy hearing Dr. Nicole teach on the cross, click here