I don't know if it was every little boy's dream, but it was certainly mine. I played Little League Baseball for the East Abington Little League. My first year at the Double-A level was a year that I remember was filled with aspirations. I'd say that about 95 percent of my aspirational energy was spent dreaming about one day playing on the lush green grass of Connie Mack Stadium. The blacktop of a church parking lot and patchy grass of the neighborhood backyard ball field was consistently transformed in the confines of my imagination into Connie Mack. It happened whether we were playing a game of pick-up or if I was alone throwing an endless number of two-out, bottom-of-the-ninth pop-ups to myself.
The other 5 percent of aspiration kicked into gear this time of year with the arrival of the Little League World Series in Williamsport, PA, an event that culminated with the championship game played on Saturday afternoon before a live television audience tuned in to ABC's Wide World of Sports. A kid can dream, can't he? Of course, our teams never made it.
This year, every game of the Little League World Series is being carried on ESPN/ABC. I tuned in last night to watch our Pennsylvania team record another win in an elimination game. The match-up had been moved from the afternoon slot due to the fact that a crowd exceeding 40,000 was expected. Wow!
What does this growing surge of interest in 12-year-olds playing baseball tell us about who we are? What – if anything – does it do to the kids? I've been thinking about this since reading an article in last Friday's USA Today: "Hershiser says kids crave LLWS attention." (scroll down once you link to find the article). Orel is once-again serving as an analyst for broadcasts of the games. As people wonder if the TV coverage (which, by the way, you have to check out – It's a multi-camera graphic-heavy package) is putting too much pressure on kids (that is, after all, what they are), Hershiser is saying that his focus is on relieving pressure. He accomplishes this by praising the players and focusing on the positive rather than on the inevitable mistakes. But watching the whole package leaves me with the feeling that once again, we are pressuring kids out of childhood, while valuing things that just shouldn't be over-valued as they are.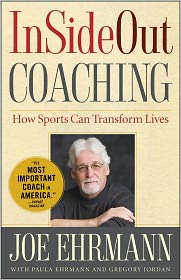 One of the new books that I'm excited to read is Joe Ehrmann's Inside Out Coaching: How Sports Can Transform Lives. You might remember that Ehrmann is the subject of Jeffrey Marx's wonderful book Season of Life. . . one of my all-time favorite sports books. I was flipping through Ehrmann's new book this morning and came across some familiar words regarding the three fundamental cultural lies that every boy is fed regarding his value and worth as a man:
1. Your value and worth lies in your athletic ability.

2. Your value and worth lies in sexual conquest.

3. Your value and worth lies in the level of economic success you achieve.
Sadly, those three lies all find expression in our sports culture. . . a culture that tends toward not only idolizing all three, but weaving them all together.
I'm afraid that what used to be boyhood aspirations are now cultural idols. If you get a chance to watch the Little League World Series this year, think about that as you watch. . . the players, the coverage, the fans, the parents, etc. Have we gone too far?