Al Lewis had a great little column yesterday in the Wall Street Journal supplement that runs in many newspapers across the country. Lewis exposes the obvious marketing and publicity push by the edgy and always-envelope-stretching clothing retailer that involves Michael "The Situation" Sorrentino of MTV "Jersey Shore" fame.
It seems that Sorrentino is annoying and upsetting Abercrombie by wearing their brand on "Jersey Shore." The reason? According to a release from the retailer, "We are deeply concerned that Mr. Sorrentino's association with our brand could cause significant damage to our image. We understand that the show is for entertainment purposes, but believe this association is contrary to the aspirational nature of our brand, and may be distressing to many of our fans."
OK. . . are you kidding? Yep. . . Abercrombie's fans have been nurtured by the brand into a batch of high moral standards that far exceed the questionable morals promoted by "Jersey Shore." Remember – as Al Lewis reminds us – that this is the same retailer that peddled "Who needs brains when you have these?" T-Shirts for girls a few years ago.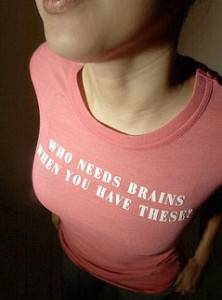 Thanks Abercrombie, for once again looking out for our kids!
Seriously? If nothing else, Abercrombie offers a great case study in how to effectively market product and worldview in today's self-absorbed brand conscious world. Sadly, their strategies work. The brand continues to grow and a host of shallow people continue to indulge their shallowness by buying the product and the worldview.
Should Christians think differently about Abercrombie? Or, am I just an alarmist?
(Click here to see a post I wrote on Abercrombie a few months ago.)