My friend Dan Sterk, a youth worker in Michigan, sent me an email this week. It was short and it wound up being very sweet. Dan was raised to be a fan of the Michigan Wolverines. He married a young lady, Kristen, who is equally enthusiastic about rooting for Michigan. I'm not sure, but it might have been a requirement for him to marry a Michigan fan. Dan told me all that before pointing me to a very interesting and curious YouTube link. . . .
While watching the video, I couldn't help but think about what sports have become in our culture. I thought about athletes and the sense of entitlement they feel. Thanks to role models who flaunt entitlement, we have an entire generation of grade school athletes whose aspirations seem to include a combination of college scholarships and arrogance. Humility is no longer seen as a virtue. I also thought about what's happening at the University of Miami and how the NCAA will respond.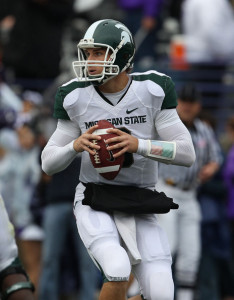 The video features a short speech from Michigan State Quarterback Kirk Cousins. The speech was given at the annual Big Ten Kickoff Luncheon. Cousins was chosen to speak on behalf and to all the Big Ten Football players. In a sports culture that increasingly seems and smells like a cesspool, this one is a diamond. Cousins' message, delivery, conviction, and boldness sent a shiver up my spine. . . really. This is a speech that I trust will be seen, heard, and heeded by coaches, athletes, parents, and fans of every age and every sport.
Thanks Dan, for the heads up on this one. And yes, maybe you should shift your allegiance for a year!