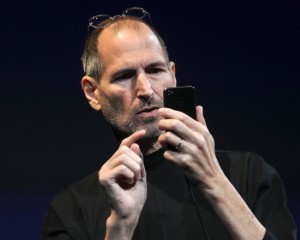 Last night while watching my beloved Phillies fizzle out, the Twitter-verse was going crazy with word that Steve Jobs had died. So massive and fast was the spreading of the news, that I wouldn't have been surprised if my Blackberry had blown up right there in my hand. I couldn't help but think about how much the world has changed in terms of information available, information shared, and information speed thanks to visionary and extremely gifted folks like Steve Jobs. In years past, news like this wasn't available until the next morning if – in fact – the AP or UPI had chosen to pick it up. What's normal speed to our young digital natives is still astounding to guys like me if we stop, remember, and think about it.
Any time someone we know or are familiar with dies, there is a gnawing inside of us. We somehow know that this is wrong, sad, and not the way it's supposed to be. Even the widespread tweets and Facebook posts that stated simply, R.I.P. Steve Jobs, point to our yearning for the universal flourishing void of disease and death that once existed and was known as "Shalom" . . . which is the peace so many want Steve Jobs to rest in. I'm not a Mac guy nor do I own an iPhone or iPod. My computer is a PC. My handheld is a Blackberry. My mp3 player is a seven-year-old Creative Zen. They all work fine for me and I've worked hard to not get sucked into the vortex of technology that leaves me desiring the latest and greatest in ways that waste my time and money. I know that's left me fairly "uncool" in some people's eyes, which I think says more about our culture than it does about me. Still, I don't think I'd be able to do what I'm doing in the way that I'm doing it if it hadn't been for the vision, creativity, and work of guys like Steve Jobs. That said, the outpouring in reaction to his death had me tossing and turning a bit overnight.
Most of the reaction I was following came from the world of youth ministry. That's where I've lived for the last 30-some years. Naturally, the tweets I saw came from all over the youth ministry world. I was seriously blown away by how widespread the response was. I saw it on Facebook too. I can't ever remember a more immediate and widespread response to the death of anyone. Granted, if all this stuff had existed when Mike Yaconelli died several years ago, I wouldn't have heard about it several hours after the fact through a phone call from my friends at Youth Specialties. This left me pondering not so much what Steve Jobs meant to people in my youth ministry world, but how much we've come to love and depend on the technology guys like Jobs created. Several weeks ago the church lost John Stott – a great theologian who has done more to directly and indirectly shape the faith of our youth ministry world than maybe any other theologian of the last 50 years. Judging from the traffic – or lack thereof – on Twitter and Facebook, Stott's passing was a small blip. . . especially when compared to the passing of Jobs. So I'm asking and wondering. . . do our reactions to both indicate what's more important to us in the church. . . technology/tools or the content of our message?
Some words from Marshall McCluhan are fresh on my mind as I've been looking at his 50 year-old "prophecies" on media and technology and what they do to us without us even knowing it. Consider these quotes from McCluhan that I shared with youth workers in San Diego last weekend in my Digital Kids seminar:
"Societies have been shaped more by the nature of the media by which men communicate than by the content of the communication."
"All media work us over completely. They are so pervasive in their personal, political, economic, aesthetic, psychological, moral, ethical and social consequences that they leave no part of us untouched, unaffected, unaltered. The medium is the message."
"We shape our tools and afterward our tools shape us."
Steve Jobs' death is sad, very sad. But I'm wondering if there's something even more heartbreaking about our response to it and what it says about us. AP writer Pamela Simpson's piece this morning included these words: "Fans for whom the Apple brand became a near-religion grasped for comparisons to history's great innovators, as well as its celebrities, to honor the man they credit with putting 1,000 songs and the Internet in their pockets."
Have we been lulled into worshipping the tools and their makers? Thoughts?