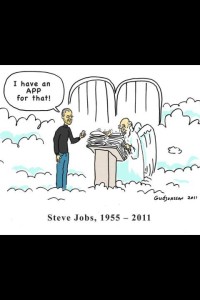 If there's one thing I realized yesterday after posting on the reaction to Steve Jobs' death, it's that Steve Jobs was a lot more important to people than I ever knew or imagined. This morning Gareth commented on my blog post about Jobs. You can read Gareth's comment in the comment section beneath yesterday's blog. I very much appreciate Gareth and his comment and thought that it deserved more than a passing nod or short response from me in the comment section. So, here goes. . . some thoughts for Gareth. . .
Dear Gareth,
Thanks so much for your response to my blog post about our collective reaction to Steve Jobs' death. Thanks for admitting you found it annoying. I'm used to that actually! No problem. Regarding offending me. . . you didn't. I appreciate not only your honesty and candidness, but your willingness to speak up. I know you're new to my blog and most likely to the ministry I'm involved with at CPYU. I would encourage you to dig deep into the blog and our website to get a feel for who we are and what we do. I hope you'll find that our work is thoughtful and biblically faithful. In a nutshell, we want to know the times. It's always my hope that as Christians we are thinking about things that need to be thought about in ways that we so often overlook.
Regarding the timing of my post. . . I would disagree. My post was prompted by the collective response I was seeing to Jobs' death. I agree. . . he was an amazingly creative guy who has given us many great tools. Frankly, he imaged God through his creativity. . . something we must celebrate. You can't read the first three chapters of Genesis today without thinking of the image of God as it burst forth in Jobs' incredible abilities. Still, my point in the blog is that we might be a bit imbalanced in who and what we value in the church. Please read the blog again. The time to respond to that imbalance is when you see it rather than down the road.
These matters are fresh in my mind as I've just completed about 5 months of concentrated research for our Digital Kids Initiative at CPYU. . . an effort on our part to think Christianly about technology. You and I would agree that technology can be used in a variety of ways – for good or for bad. Last weekend I presented my first Digital Kids seminar at the National Youth Workers Convention and I wish you would have been there to hear first-hand how I'm processing and thinking about these things. I mentioned Albert Wolter's book Creation Regained and his whole notion of structure and direction. Wolters has done a great job of unpacking what you and I both know to be true. . . that we can use things like the structure of technology in a direction that brings honor and glory to the Kingdom of God, and in a way that can bring honor and glory to the Kingdom of the world, the flesh, and the devil. As leaders of kids, we need to know this reality exists, and then endeavor to move it all in the right direction. You cite leading worship and your use of technology. Nothing wrong with that at all. But we do need to avoid our tendency to integrate technology without first thinking about how our use of technology will shape and influence kids. For example, I think it's possible to use technology in worship in such a way that we actually discourage worship of God, while encouraging and fostering worship of worship and worship of the technological tools. I often ask youth workers this question: "If the power grid went down, would your students be able to worship?" In the end, Jobs' tools have been used to bring people closer to Jesus. But is it possible, probable, or even a fact that his tools have pushed people away from Jesus as well? Yes, that's happening all around us, which makes the desire you and I share to use these tools to the glory of God and for the expansion of His will and way a task that we must embark on thoughtfully and consciously. Make sense? You've mentioned some of those ways and there are lots more. But we still need to be careful.
In my seminar I also spoke about the concept of "media ecology" (Neil Postman) and Marshall McCluhan's great work on how media works us over without us even knowing it. History shows that both those guys were dead-on in these matters. For Postman, the introduction of the cell phone changes everything in the landscape in some way. . . even if it's subtle and difficult to see. Think about how the handheld device has both enhanced your ability to be in touch with your students 24/7. But think as well about how those same handheld devices have interrupted family communication in the home as kids are tethered to their friends, physically present with their parents, yet relationally cut off from parents in the midst of that physical presence. Make sense? And that's just the tip of the iceberg! Here's another thought. . . have you been in youth ministry long enough to see the growing inability of kids to sit comfortably in silence to listen to God?
Gareth. . . again, I want to commend you for thinking about these things. Can I challenge you to go a step further and think with me some more? If so, here's the challenge.
First, I want to ask you to read a wonderful book that's been very helpful to me in these matters. Tim Challies has written The Next Story and I would like to give you a copy. . . a brand new copy in fact. The only catch is this. I would simply ask you to give it a read and then engage in some conversation with me about the book. Deal? Get me your email address and we can arrange for me to get the book to you right away.
Second, I want to ask you to give another blog post that a friend just pointed me to this morning a look. It's a post from James Emery White about Jobs' influence and death. I learned some things about Jobs' that I didn't know before. It's a thoughtful post that models deep Christian analysis of culture. White's post is titled "A Most Curious Hero." This blog post will shake up anyone who reads it.
Finally, if you happen to be in Atlanta next month for the next National Youth Workers Convention, I would encourage to come to my Digital Kids seminar where I'll be unpacking this stuff a little more deeply than I can here.
Gareth, thanks again for your comment. No offense taken and it's fine for you to be annoyed. In fact, it was being a bit annoyed along with being deeply concerned that prompted my blog response to the reaction to Jobs' death.
Blessing and thanks,
Walt