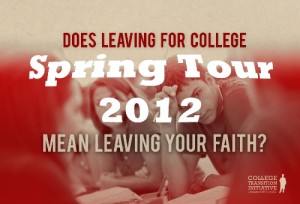 A few years ago Asher Roth got himself nominated for a VMA with his video for his song "I Love College." The song celebrated love for all things college. . . all things – that is – except for academics, intellectual growth, healthy socialization, and preparation for life. Roth defined the university years as Animal House on steroids. According to Roth, one's goals, purpose, and objectives is to live on campus to the glory of self for anywhere between four years and a lifetime.
Asher Roth couldn't be serious, could he? It seems that "college confusion" has embedded itself even more deeply as students follow Roth's lead. No, it's not all students. That's for sure. But judging from a growing catalog of YouTube videos that share the title I'm Schmacked, life on campus is not what we think it is. A recent college graduate pointed me to the I'm Schmacked videos, a series of trailers for an upcoming documentary of the same name in which one campus tries to outdo the other in a kind of over-the-top party competition. The first one I looked at was made by students at Indiana University of Pennsylvania. . . which you can watch below. What concerns me most about videos like these are that they serve as orientation programs that define what life on campus should be.
For years now, parents and youth workers have been voicing concerns regarding what happens to our Christian kids when they head off to college. Research and anecdotal evidence indicate that this concern is warranted, with many of these students hitting the "pause" button on their faith. Some seemingly walk away. We've got to do a better job of preparing our kids for their college years.
At CPYU, Derek Melleby has been working hard to understand and address these issues through our College Transition Initiative. What I love about what Derek's doing is that he isn't issuing a checklist of "don'ts." Instead, Derek is pointing transitioning students to a deep understanding of what it means to embrace college as a great privilege and opportunity, while bringing glory to God through integrating faith into every nook and cranny of college life. To be honest, it's both timely and refreshing. This is truly about what college should be.
In a few days, Derek will embark on a College Transition Initiative Spring Tour. You can learn more about the Spring Tour 2012 and where Derek is headed here. If he's coming to a venue near you, spread the word and get yourself there. If not, give us a call at CPYU and get a College Transition Initiative Seminar scheduled for your community.