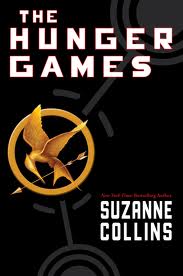 There was no need for me to stand in line at a movie theater or even read the paper to know that there's a cultural phenomena sweeping the nation and the world that's known as The Hunger Games. It all started for me several weeks ago with a simple question from my daughter, who is a 6th grade teacher. "Dad, have you done anything on The Hunger Games?" She proceeded to tell me that her students were reading the books. She had started to read the books. Then I heard about countless others who were reading the books. Then, there was the massive buildup to the movie, which opened late last week and proceeded to post some pretty impressive box office numbers.
No, all I needed to do was look around on Friday while I was sitting in airports and belted in during flights. The first book in the trilogy was everywhere. It was in my hands as well. I picked it up on Thursday and read it on Friday and Saturday. If you want to know how gripping it is I can tell you that I was wishing I had gotten through that last chapter by the time I turned the lights out on Friday night. I didn't. I had to suffer through my own youth culture seminar on Saturday morning while waiting to finish on the flight home. Now, I need to read the next two books and see the movie.
Several folks have asked me what I think of The Hunger Games. I've got no easy and quick answer on this one. I need to do some more reading. I need to do some more thinking. I need to do some more asking around. I need to do some more discussing. I can, however, offer some initial thoughts.
First, the book is simple yet gripping. The entire time I was reading I kept wondering to myself about why it's such a best-seller. There is nothing about it that makes it stand out for me. I've read many, many good stories that never got traction or stuck. For some reason, this one has. I find it especially interesting that a work of juvenile fiction has such a huge adult audience. Maybe it's a matter of something going viral in our current culture of social media.
Second, I'm not sure that this is just "a book about kids killing kids." I know that many commentators have made that suggestion and I even had someone describe it that way to me. There are things much deeper going on here. In fact, it's a book about kids being made to kill kids. That's the deeper story for me at this point. The cover art, colors, and font trigger thoughts of Hitler and his Third Reich in my mind. That leads to thoughts about propaganda, totalitarianism, and mind control. Read the book and you'll see that there's some of that going on. The story itself conjured up images of The Lord of the Flies , Cormac McCarthy's The Road, and Huxley's Brave New World for me. Anyone else see any of that as they read?
Third, I think the book serves as a look ahead to the the kind of ugly fall-out that just might be around the corner for our own culture when an obsession with reality TV combines with a diminished respect for human life and dignity. Realistically, this might be a story about where we're headed.
Fourth, The Hunger Games offers a launch point into discussions about human brokenness, sin, and depravity. Sadly, we've come to believe in the inherent goodness of people. Looking at life on that foundation eliminates any need for salvation, redemption, and a Savior. Why would we need to a rescuer if there's nothing we need to be rescued from? Consequently, there's something "good" about the evil world depicted in the book.
Fifth, the immense popularity of the books and the film(s)remind us that our kids and ourselves are in desperate need of a hope-filled story. We've been made to live in God's story. When we don't know that story or live in it, we default into insufficient substitute stories that remind us of that deep yearning for wholeness that life in God's story brings. In that way, the popularity of this story should spur us on to tell the bigger, better, and most amazing/complete story of all.
Finally, the obsession with The Hunger Games should lead us to question the obsessed. "Why do you like this story?" and "What do you like about this story?" are two questions that will not only take us deep into the hearts and minds of the spiritually hungry, but they will offer us opportunities to talk about the only Bread that satisfies.
So, that's where I am at this point in time. I want to keep thinking.
What do you think about The Hunger Games?