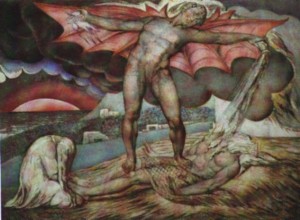 "Satan Afflicting Job" by William Blake
I don't think there are easy answers, but that doesn't mean there aren't answers. I've been thinking about that all week since our pastor, Michael Rogers, preached a challenging sermon on the first chapter of Job. Somehow in the midst of all the craziness, all the loss, and all the unexplainable heartache, Job was able to fall on the ground and worship God while saying, "Naked I came from my mother's womb, and naked I shall return. The Lord gave, and the Lord has taken away; blessed be the name of the Lord" (Job 1:21).
Brokenness and heartache are all around us. As we get older, life doesn't seem to get better. It seems to get harder. Sometimes we forget that there's a battle raging all around us. . . and even in us. In his sermon, Michael quoted one of my heroes of the faith, Abraham Kuyper, on this reality of spiritual warfare: "If once the curtain were pulled back, and the scene behind it came into view, it would expose to our spiritual vision a struggle so intense, so convulsive, sweeping away everything within its range, that the most fierce battle fought on earth would seem like mere child's play by comparison."


Pondering this reality can make us (and it should) especially sensitive to evidence of the battle that we experience, see, and hear in our daily comings and goings. A story that broke about Lady Gaga earlier this week is one example.
She's announced the late-August release of her new debut fragrance, "Fame." CBS News reports that last year, Lady Gaga told an Australian radio station that the fragrance would smell like "an expensive hooker." "[Blood and semen] is in the perfume but it doesn't smell like it," she said at the time. "You just get sort of the after feeling of sex from the semen and the blood is sort of primal. And the blood was taken from my own blood sample so it's like a sense of having me on your skin." Really?!? All kinds of sick and twisted stuff combines not only in the perfume itself, but in the hearts and minds that have conceived this kind of thing. What's even more troubling is the fact that we're so immune to this kind of stuff that fewer and fewer of us (especially our kids) will blink an eye at the story.


Now this morning, we wake up to news of another act of horrible violence as a young gunmen opened fire in a crowded movie theater in Aurora, CO. The news is already horrifying. . . and it will only get worse as the hours and days go on. How can we understand and explain such evil?


Once again, I am reminded of just how important it is for us to go deep in our understanding of God's Word, to fill the wells of our lives with the rich water of His truth, and to prepare ourselves – like Job – for whatever may come by committing ourselves to spiritual depth. We need to train the students in our care to do the same. It's this depth that gives perspective. It's this depth that gives us the ability to discern truth from error. . . right from wrong. It's this depth that gives us hope. It's this depth that will sustain us in times like these.