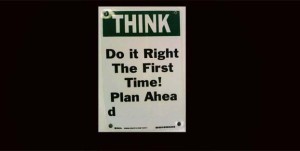 I'm sure the campfire would burn long into the night if it was surrounded by youth workers sharing stories of the risky, dangerous, and downright stupid things they had done over the years. . . all in the name of ministry. I know I could keep a campfire burning for days with the litany of stories recounting my own stupidity. There were those famous electric chairs, snow-tubes tied to the rear bumper of my car, and a whole lot more. And if I had stayed in local church ministry rather than starting CPYU back in 1991, my list of stuff would be even longer. Not only that, it might have caught up to me as a shift has been made into a more dangerous and litigious culture.
The big youth ministry story here in our central Pennsylvania world is one that features a grand jury indictment handed down last Friday against the Glad Tidings Assembly of God Church in nearby Middletown, and 28-year-old youth pastor Andrew Jordan, who's been charged with false imprisonment and simple assault.
In a nutshell, here's what happened:
Andrew and his youth ministry team decided back on March 21 to devote a Wednesday evening youth meeting to an experiential learning opportunity about missions and the persecution some missionaries face in countries opposed to the Gospel. While the students were meeting, the room went dark and men with flashlights entered the room. Reporter Bernard Harris describes what happened next: "They flipped over chairs, ordered the teens to the floor, covered the teens' heads with pillow cases and bound their wrists with zip ties. The teens were led into the back of a cargo van and driven around before being taken to a windowless, unfinished basement. Once there, the pillowcases were removed. They saw one of their captors holding an assault rifle. Nearby, behind a tarp, the teens overheard the men interrogate their youth pastor. They used power tools to torture him and, when they brought him before the teens, there was blood on his face. But the blood, like the entire incident, was fake. The teens were led to a bonfire where they were told the exercise at the Glad Tidings Assembly of God was intended to show the persecution endured by Christians in other parts of the world."


While some of the kids figured out that what was happening wasn't real, others were deeply traumatized. . . which led to one mother reporting the event to law enforcement authorities. Now, Jordan and his church are facing the possibility of some rather severe penalties, which could include a prison sentence.


There are lessons here for youth workers. Perhaps the biggest lessons are about how we teach lessons to our students. In a post-Columbine world, we need to be very very careful about experiential learning. Sure, there will be those situations where our students are thrust into unplanned and chaotic situations that God uses in powerful ways. I think of two of my youth pastor friends who were leading youth groups when horrible bus crashes occurred that resulted in devastating injuries and loss of life. But that's not what we're talking about here. We must never throw our kids into contrived risky and difficult situations without advance planning, advance consultation, advance parental permission, and advance explanation. Taking kids through a ropes course, a whitewater rafting experience, or even a missions trip to another country fall into this category. In addition, like the Emergency Broadcast System announcement that "this is a test. . . this is only a test," these more risky experiences like the youth meeting at Glad Tidings Assembly of God should be done (if at all) only after all the advance work and lots of disclaimers so that everyone knows what's really going on. (To be honest, I think there are more effective and deeply meaningful ways to accomplish the goal of educating kids about missions and persecution).
As I look back on my own youth ministry experience there are many things I would do differently. Some of my memories evoke a shaking of my head in disbelief that I could ever have been so foolish. Andrew Jordan's story, my story, and the stories of just about anyone and everyone doing youth ministry issue a clear warning: think, think, think and consult before you act. It really is wiser to ask permission than to ask for forgiveness.