I love the difficult questions because they make me think. For the last couple of weeks I've been blessed to spend time every day with a room full of thinking people who minister to children, teens, young adults and their families. We're at Gordon-Conwell Theological Seminary on the beautiful North Shore of Boston (yes, it's very easy to go to school in a place that looks like this!) for an intensive residency as students work towards their Doctor of Ministry degree in Ministry to the Emerging Generations. While I'm a member of the three-headed teaching team that includes Duffy Robbins and Adonis Vidu, I'm blessed to be learning and stretched in ways that I hope will make be a better follower of Jesus Christ and a better ministry practitioner.
The practices of ministry have been our focus in this our third and final residency.We're asking ourselves the hard questions about what we call evangelism and discipleship. One of the tensions we've wrestled with over the last three years is that tension between width and depth. While I know it isn't really fair to simplify width and depth to an either-or kind of thing, it is a balance that we have to think through. In other words, should we focus our ministry efforts (church, youth group, etc.) on strategies and practices that fill the room, or should we focus on taking people who have decided to commit to "live" in the room, deep?
Those of you in youth ministry are no doubt familiar with my friend Duffy Robbins. Duffy has been thinking and teaching about these things for years. Yesterday Duffy reminded our students of some basic principles that relate to ministry numbers. Maybe you've heard Duffy say that "what you win them with is what you win them to." In other words, if we adopt at attractional model that uses magnetic props/experiences to get them in the door, they'll be drawn to the magnet and not necessarily to Jesus. Or, as Duffy reminds us, "If you win them with pizza you've won them to pizza." Duffy also talked about how focusing on spiritual depth and discipleship can be a numbers killer. The deeper we go, the fewer the people we'll have in the room who will go deep with us.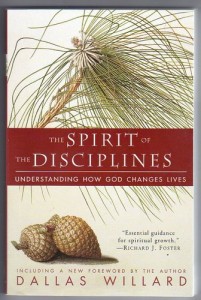 We've had some stimulating and theologically deep conversations about these matters with this cohort of doctoral students. These aren't easy questions and we rarely all agree, but they are questions we need to be asking. This year we've consulted with some great writers who have led us into pondering the why and how of what we do. . . people like Gordon Smith, Eugene Peterson, N.T. Wright, Dietrich Bonhoeffer, and Dallas Willard. In his book The Spirit of the Disciplines, Willard has a little section under the heading "Christian Leaders Responsible for the Future of the World" . . . that's on page 245ff if you're following along at home! What Willard says here is worth thinking about as we ponder how we do ministry in our unique ministry settings. He says, " . . . the responsibility for the condition of the world in years or centuries to come rests upon the leaders and teachers of the Christian church. They alone have at their disposal the means to bring the world effectively under the rule of God." Simply stated, what I plan to do in youth group tonight and how I choose to do it has deep deep implications for the future. . . a kind of "butterfly effect" if you will.
Willard goes on to challenge the sacred cow of ministry bigness that we are prone to relentlessly pursue on our contemporary ministry landscape: "Ministers pay far too much attention to people who do not come to services. Those people should, generally, be given exactly that disregard by the pastor that they give to Christ. The Christian leader has something much more important to do than pursue the godless. The leaders task is to equip the saints until they are like Christ (Eph. 4:12), and history and the God of history waits for him to do this job. It is so easy for the leader today to get caught up in illusory goals, pursuing the marks of success which come from our training as Christian leaders or which are simply imposed by the world. It is big, Big, always BIG, and BIGGER STILL!. That is the contemporary imperative. Thus we fail to take seriously the nurture and training of those, however few, who stand constantly by us."
Think about what Willard says. I wonder, is it possible to have too many kids in youth group? Too many students in the campus fellowship? Too many people in church?