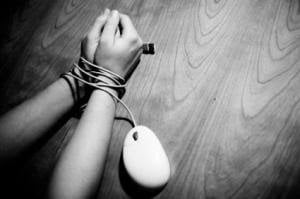 It appears that there might be a long-overdue shift taking place regarding our culture's stance on pornography. Yes, the church has been speaking out against pornography and it's horrible distortion of God's good gift of sexuality for years. Parents, pastors, youth workers. . . we've all been warning our kids about pornography . . . mostly from a Biblical/ethical perspective. Sadly, those warnings have usually elicited criticism from a morally relativistic culture that when it comes to matters of sexuality believes "to each his/her own."
But the good news is that the culture-at-large seems to be listening to the growing number of warnings that are coming from the medical community, experts in neuro-physiology, social scientists, and even those who are sharing anecdotal testimonies to pornography's addictive and dangerous fall-out.
As a Christian, I am encouraged for the reason that this new push-back is testimony to the integrated nature of how God has made us. In other words, science is now telling us that something we've increasingly seen as benign or even virtuous is actually quite dangerous. God has indeed made our sexuality as a good thing. . . but we are indulging it out of the bounds of his plan. When we step out of the bounds of that plan, bad things happen.
Late last month, Scott Christian penned a piece for GQ Magazine – a men's mag that typically promotes boundary-less sexual activity – that looks at some of the statistics regarding pornography. It's worth a read and it's worth talking about with your students. We shouldn't be surprised that people are starting to "get it" when it comes to the porn pandemic. In his article "10 Reasons Why You Should Quit Watching Porn", Christian passes on this list that comes from surveys of the NoFap online community, a group committed to abstaining from pornography and masturbation. Talk about these reasons with your kids. . .
1. For those addicted to porn, arousal actually declined with the same mate, while those who regularly found different mates were able to continual their arousal. It's known as the Coolidge Effect, or novelty-seeking behavior. Porn, after all, trains the viewer to expect constant newness.
2. One in five people who regularly watch porn admitted to feeling controlled by their own sexual desires.
3. 12 percent of NoFappers report watching 5 or more hours of Internet porn every week. 59 percent report watching between 4 and 15(!!) hours of porn every week.
4. Almost 50 percent of those on NoFap have never had sex in their lives, meaning their only experience with intimacy is purely digital.
5. 42 percent of male college students report visiting porn sites regularly.
6. 53 percent of the NoFappers developed a regular porn habit between the ages of 12 and 14. An alarming 16 percent said they started watching before they were 12.
7. 64 percent report that their tastes in porn have become more extreme or deviant.
8. Among 27-31 year olds on NoFap: 19 percent suffer from premature ejaculation, 25 percent are disinterested in sex with their partner, 31 percent have difficulty reaching orgasm, and 34 percent experience erectile dysfunction.
9. After committing to no masturbation/porn, 60 percent of those on NoFap felt that their sexual functions had improved.
10. And 67 percent had an increase in energy levels as well as productivity.
Once again, I want to encourage you all to learn as much as you can about pornography, its effects, and its remedy. A good place to start is with Tim Chester's Closing the Window: Steps to Living Porn Free.