Perhaps the most telling sign of the times is how my mood has changed over the years. When it comes to MTV's annual Video Music Awards show, it's transitioned for me from one of the most-valuable-annual-youth-culture-rituals-to-watch, into a burdensome chore. I spent a good portion of yesterday dreading the nine-o'clock hour and what it might hold. I'm guessing that my mood was occasioned by the combination of cultural change, diminished artistic creativity, and spiritual growth (on my part, I hope). Yet, I still watched. Did you?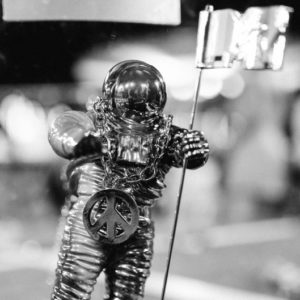 MTV came on the scene just over 35 years ago. While it's not as pervasive a cultural force as it once was, the annual VMAs is a cultural artifact that offers a look into who we are, where we've come from, and where we're going. I watch (and encourage others to watch) the VMAs as a kind of "walk through Athens" (Acts 17). Like Paul, the walk leaves me "greatly distressed" as a result of looking at the VMAs through the lens of a Biblical worldview. I look for spiritual hunger pains, cries for redemption, and altars to our culture's unknown gods. I also look for points of truth and light.
We watch to do what John Stott has called "dual listening." Stott describes this missional responsibility of all Christians this way: "We stand between the Word and the world with consequent obligation to listen to both. We listen to the Word to discover even more of the riches of Christ. We listen to the world in order to discern which of Christ's riches are needed most and how to present them in their best light."
So I watched. Did you?
Here are some initial thoughts on what I saw as I looked around. . .
Always begin by looking for signs of light and life. Remember that all truth is God's truth. Certainly, the image of God can be seen in the beauty of talent. Nowhere was that more obvious at the VMAs than in Beyonce's voice. When she opens her mouth to sing, God is glorified as He has gifted her with her talent. How she chooses to use that talent is another story.
Certainly Alicia Keys moment on stage to introduce the nominees for the Best Male Video was the most poignant moment of the night. Keys, a very talented singer herself, took the opportunity to mention that it was the 53rd anniversary of Martin Luther King's "I Have A Dream" speech. Key's then shared this original poem in honor of that speech: "If war is holy and sex is obscene, then we got it twisted in this lucid dream. Baptized in boundaries, schooled in sin, divided by difference, sexuality, and skin. Mm, so we can fear each other, hate each other. We can break these walls. We can build these walls between each other. Baby, blow by blow and brick by brick. Keep yourself locked in, yourself locked. Oh, maybe we could love somebody. Maybe we could care a little more. Oh, maybe we could love somebody instead of polishing the bonds of holy war. Thank you." While it is clearly a much-needed call in this horribly uncertain times, my initial reaction is that it categorizes war and sexuality in confining ways that are extreme. Could it be too simplistic? Is war ever justified? Is all sex seen as obscene? Does searching for, seeing, and living out a biblical sexual ethic qualify for criticism according to Keys? Still, her call to love is reminiscent of things John Lennon was saying/singing almost fifty years ago. Perhaps Keys' words could spark some good discussion on the balance between truth and grace.
Speaking of talent. . . it was largely absent from this year's VMAs. Auto-tune, lip-syncing (Britney Spears. . . wow! . . embarassing), and pre-recorded backing tracks are now commonplace from start to finish. For those of us who have been watching the VMAs since the get-go we scratch our heads and wonder, "Where are the live performances? The musical talent? The raw stuff that isn't clouded by over-production and the quest for image over content and depth?" We are drawn to and settling for much less than excellence.
Following on that, the absence of creativity has been filled by music and performance that for me, is best described with these words: monotonous, repetitive, formulaic, predictable, juvenile, and insulting. In the world of the most popular music, there is a famine of creativity. Production is off the charts on the charts. But musical creativity and instrumental talent is absent.
Perhaps what's most frightening is that the most popular musical icons in today's world are the most shallow and misguided. And when you realize that the audience for this kind of misguided fluff are the youngest, least discerning, and most impressionable among us. . . well, that's scary. Fortunately, there is still plenty of good music out there that the most discerning can find. . . but it wasn't seen at all last night.
In many ways, this was the "year of the woman" on the VMAs. That's not necessarily a bad thing. But we need to look more deeply at how femininity is defined, practiced, and displayed. Of course, this year's VMAs centered on Rihanna (winner of the "Video Vanguard Award") as she performed medleys of some her greatest hits, taking the stage three separate times. And there was Beyonce, performing what some have called a concert with the VMAs added-on. What's striking is the way they representative of the many female artists who are redefining feminism. The vein of feminism that rightly pushes back on the type of entitled male sexual dominance which objectifies women is diminishing. Now, we see the strong, hyper-sexualized woman who objectifies herself (just watch their performances from last evening. . . in fact any female performance from last night. . . the power of the twerking booty), and who then exercises her power by sexual dominance over men. At the end of Beyonce's 15+ minute performance, her female dancers formed the female symbol on the stage. As the crowd applauded, Beyonce's first words were "Thank you God!". . . which leads to the morphing of unorthodox Christian spirituality with a variety of anti-Scriptural agendas, messages, and worldviews.
One of those defining moments came at the end of the performance of "Side to Side" by Ariana Grande and Nicki Minaj, as each paired off with a male dancer who lowered their faces to the singer's crotches to simulate oral sex. . . all done on a stage framed by an oversized pair of a woman's opened legs (not at all subtle). Message communicated.
Kanye West. . . he sure knows how to talk to get people talking. His rant was once again borderline incomprehensible. All of that was nothing but a precursor to his introduction of what he called a piece of  his "art". . . the debut of his new video for his song "Fade." The video, by the way, is a provacative "sexercise" routine performed by a woman in a gym. . . which ends with a pornographic post-workout tryst in a shower. If you see the ending, you realize that when it comes to identity, personhood, and sexuality, we as humans are not the crowning point of God's creation. Rather, we are no different than animals driven by their animalistic instincts. Once again, I was reminded that in today's world, sex of any kind is understood as a recreational activity to be shared by friends and complete strangers.
Speaking of Kanye, we can't forget the role that narcissism plays in our culture. West embraces narcissism just as strongly as he embraces himself. Who else would be brazen enough to list himself in his own list of "less than 10" "artist-merchants" that have influenced history? Here's West's list: "Truman, Ford, Hughes, Disney, Jobs". . . and then "West."  What is most alarming about it all is that people cheer for this stuff. They love him. I can only imagine the conversations West has with his wife Kim Kardashian when they lay in bed after turning out the lights. I imagine them laughing themselves to sleep after saying, "Can you believe how stupid, idiotic, and gullible people are?!?"
The "Best New Artist" award went to DNCE, known most for their debut single "Cake By The Ocean", a mindless party song calling listeners to "lose our minds and go f___ing crazy" and have sex on the beach.
On a more humorous note. . . Jimmy Fallon cracked me up as soon as he walked out as Ryan Lochte. Typical Fallon. But is it just me. . . or in the context of last night's show does Jimmy Fallon seem even old and out-dated?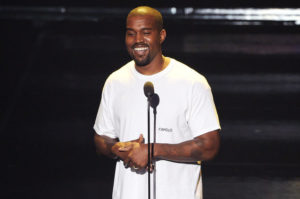 As I continue to process and grieve over the confusing, boring, and over-produced 2016 VMAs I think that the performance by The Chainsmokers and Halsey of the current #1 song, "Closer," sheds light on the spirit of the times. The best answer they can offer to life's issue is this line from "Closer": "We ain't ever getting older." Sadly, those of us who were once teenagers and young adults know that's not an option.
The emerging generations are crying out for redemption. Kanye told the audience in his speech (immediately before introducing "Fade") that "we are undeniably the influencers, the thought leaders." If that's the case. . . and I think it is. . . then these voices are leading young lemmings on a march to certain destruction.
Redemption will not come through narcissism, nihilism, dominance, or sexual expression. Rather, what we need are influencers and thought leaders who have experienced the life-giving reign of the Kingdom of God brought in by the incarnate Christ. What is needed is a call to and examples of a dynamic, orthodox Christian faith that is integrated into every nook and cranny of life. Then, our kids need to learn see all cultural artifacts through eyes of faith. And,they need to be encouraged to create excellent cultural artifacts that are made with minds, hearts, and hands of faith.
What lies beneath everything seen and heard on the VMAs is a deep groaning for redemption. The solutions offered only increase the brokenness and emptiness. What  Steve Turner writes in his book Popcultured is true: "Popular culture can be a useful indicator of the Zeitgeist, the 'spirit of the times.' Anyone wanting to be alert to changing attitudes and trends in belief would be wise to pay attention. It's a place where society airs its hopes and uncertainties. It's where people attempt to win others to new ways of thinking. It's where possible futures are tried out." If that's the case. . . and I wholeheartedly believe it is. . . then the future according to the VMAs isn't bright.
And so I think of the words of Jesus: "Come to me, all you who are weary and burdened, and I will give you rest." Lord, draw us to yourself.