If you've been paying attention at all to those elements of the rapidly changing culture soup that have been talked about online over the course of the last week, you've probably heard some rumblings regarding the latest venture from long-time science educator, Bill Nye. From 1993 until 1998, Nye was a PBS staple with his popular kids' show, Bill Nye the Science Guy. Nye never disappeared from television, making numerous appearances over the years in an effort to promote his view and theories. He now has a new venture. . . which we'll get back to in a minute. .  .
Interlude. . . for a little bit of social science reality. As we say and teach here all the time at CPYU, culture is both a map (directive) and a mirror (reflective). As a map, it tells us what to believe and how to live. It's especially powerful in the lives of kids since they are at a very vulnerable and formative stage of life developmentally. Consequently, we need to know what the cultural maps are and where they're leading our kids. When they lead them in the right direction, we can celebrate and affirm those maps. But when they lead in a direction away from God's order and design, we are called to issue challenges and correctives in an effort to lead our kids onto the narrow road that leads to life. As a mirror, culture helps us see who we are, the choices we've made, and the course we are on.
So, back to Bill Nye and his latest venture that's been getting so much press over the last few days. . .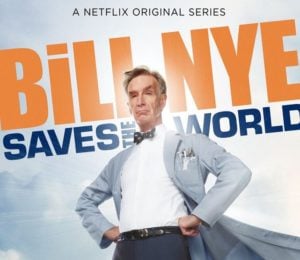 Ironically, on the same day that our CPYU family gathered for our annual Celebration Banquet of our mission and ministry to know culture (April 21), Bill Nye was making culture and mapping life through the debut of his new Netflix series, Bill Nye Saves the World.  While the show's moniker is telling in and of itself, a peek into Nye's beliefs and the show's mapping message can be found in Episode #9, titled "The Sexual Spectrum." During the show, Nye introduces a performance by Rachel Bloom as a "cool little segment" that's "very special." Bloom's performance of the song "My Sex Junk" clearly maps and mirrors emerging societal attitudes on gender, promoting the idea of behavioral relativism, personal choice, a sexual/gender spectrum, and fluidity. . . or as Bloom sings, "there's nothing taboo about a sex stew."
I want to encourage you watch Bloom's performance. I want to encourage you to quietly ponder and digest how her performance serves as a map and a mirror. And, I want to push you to view the performance and the beliefs at its' core through the framework of a biblical sexual ethic. Then, talk to the kids you know and love. The Scriptures must shape our view and practice of God's good and glorious gift of sexuality. Our transitory feelings and shifting opinions on sexuality should never be used as the foundation from which to develop a view of Scripture. Overall, we need to be speaking up and framing the issue in God-honoring ways with our kids.
The culture is speaking. We must be speaking even louder.