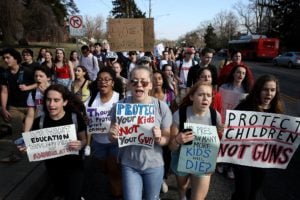 Just like it will happen all over the country, high school and middle students here in our area will be walking out in planned demonstrations today. . .four weeks after the horrible tragedy in Parkland, Florida. Our kids can and should be encouraged to thoughtfully and peacefully express their thoughts and beliefs on this pressing issue, and we applaud them for their activism.
One week after the Parkland tragedy, I blogged some initial thoughts. A couple of friends pushed me to go even further, offering some specific strategies youth workers and parents can employ to follow-up in constructive ways with the kids they know and love. Like everyone else, the question I've been asking is this: "What is the solution?" And, like everyone else, I've been juggling a variety of "action points" and "do-this-or-that" steps as I've pondered the answer to that question. As with everything in life that rocks our world and sends us into some level of shock, the dust needs some time to settle so that our solutions are couched not in the heat of our emotions, but in wisdom. Developing wisdom and coming to those conclusions takes time. . . a reality that we sometimes find difficult to accept. Taking time gives us an opportunity to move beyond the initial event, into the more hidden levels of causation. In our minds, immediate crisis demands immediate response. . . not just in the necessary triage, but in prevention. I think this is a mistake we make, allowing our emotions to lead to knee-jerk rather than well thought out responses.
So today, as students get ready to walk out, I've got some further thoughts that have been cemented for me over the past four weeks. Humanly speaking, I don't think we can offer or force a complete solution to the human problem of brokenness and its' expression. Sure, we must build behavioral borders and boundaries that help us to protect ourselves and others from both ourselves and others. This is where legislation, law enforcement, and the judicial system come in. But the existence of these very systems are clear testimony to the fact that we've got a problem that won't ever be solved in this life. That doesn't mean we don't try. But it does mean that we must realistically understand that we will never fully succeed. The violent will always be with us. . . and even in us.
And that's where I think youth workers and parents need to speak into the lives of both our selves and our kids. If we truly believe that God made the world and is actively working out His story, then we need to be sure that we both know that story and are finding our place in it. The biblical narrative should shape our perspective in foundational ways. Consequently, our proposed solutions and our activism must be deeply rooted in the biblical story.
Last week I found some helpful perspective while reading Tim Keller's March 8 entry in his new devotional book, God's Wisdom for Navigating Life. In his comments on Ecclesiastes 1:13-16, 18, Keller says that "Ecclesiastes speaks of applying the mind to. . . wisdom – that is, seeking to understand the seen, material world." In effect, that's why we all try to do, isn't it, in the hours, days, and weeks after tragedies like Parkland? We seek to understand and eliminate this kind of brokenness and evil. But Keller reminds us that the author of Ecclesiastes is, at this point, trying to understand the world in terms of itself. He writes, "This almost by definition is the scientific enterprise – the effort to find a natural (not supernatural) cause for absolutely everything." But the author goes on to conclude that this endeavor is doomed to failure. "We can't fix human problems with mere technology and knowledge – what is crooked cannot be straightened (Ecclesiastes 1:15). Science can't change the heart. We may study racism, crime, and poverty and make some advances. But the view that every phenomenon has a natural cause and therefore a technological solution in the end fails because this simply isn't true."
While teaching this reality to our kids won't eliminate gun violence, it does explain the fundamental issues at hand, which in turn can help us shape our efforts at remedies in more realistic and hopeful ways. As Keller writes, "There are supernatural, spiritual problems that need supernatural, spiritual remedies. . . Human reason unaided by God's revelation will never give us the whole picture."
Activism should be about the Christian's pursuit of the good, true, beautiful, and right. It should be about understanding human flourishing and seeking to promote such in every sphere of life. It should be about pursuing justice in ways that bring honor and glory to God.
And this, friends, cannot and will not happen until we are catechizing and instructing our kids in the deep, deep theological riches of the biblical narrative. We cannot not be actively pursuing theology and a deep theological perspective on life. When we choose not to prescribe and wear the corrective lens of Scripture that allows us to see more clearly, our vision will be blurred and we will do nothing but bump into and trip over just about everything in life.