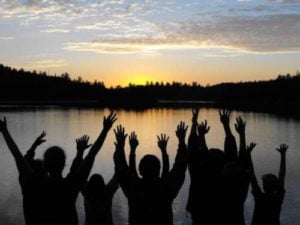 This pandemic is creating so many challenges for so many people and organizations. Last week I contacted a friend in Boston who has been running a one-week summer camp for kids over the course of several decades. She and her team came to mind as I was thinking and praying about the summer and how ministries are having to make so many adjustments. She told me that they were still trying to have their camp, but that they needed to find a new facility. The beautiful Christian camp they have used every year was closing. . . not just for the summer. . . but permanently. I was stunned. I went to the camp's website and there it was. . . in big bold letters. . . an announcement that the Covid-19 pandemic had done them in and they were closing for good.
I have many, many friends in the world of Christian camping. I've chatted with many of them over the last few weeks and my heart aches for them. So much to navigate right now in terms of their immediate and long-term futures. I've committed to praying for Christian camps as they work to navigate these difficult days. This morning, I decided to write a prayer for Christian camps that I can pray each day. I'm sharing it here and invite you all to pray with me. I'm guessing that every single one of us has been touched deeply. . . directly, indirectly, and most-likely both directly and indirectly. . . by the power of Christian camping. And so, let's continue to pray. . .
Almighty God, our Creator, Sustainer, and Protector, we are grateful for your never-ending presence throughout all of life, and especially as we navigate the unknowns of this current health crisis. We ask that you would visit with your blessing our Christian camps as they struggle to make decisions regarding their near and long-term futures. Lord, these camps have histories as powerful instruments in your hands as they have faithfully served literally millions upon millions of people as a refuge from life's storms and as a signpost pointing to the Cross of Jesus Christ, many of them for decades and generations. Your Church is larger and stronger because of Christian camps and their legacy.
Yet now, so many Christian camps are wondering if their good work for your Kingdom will be able to continue over the coming summer camp season. Some are wondering if they will be able to remain open next week. . . or even tomorrow. And, we grieve the permanent closing of so many camps already as a result of the pandemic and diminished resources. We boldly ask that where there have already been closings, your healing hand would touch and resurrect that which appears to be without any hope for life.
We pray that you would pour out on camp administrators, camp boards, and camp staff an abundance of your Divine encouragement, hope, and peace. Give them wisdom to make good decisions, and faith to navigate their unknown futures to your glory! Provide an overflow of creativity so that they might find ways to adjust and adapt their valuable ministries to children, teens, and families. . . even if physical presence at camp is not a possibility during the coming summer. And, we pray that you would provide the funding. . . a daily measure of manna and quail. . . that is needed to keep the work of Christian camps moving forward. Give camping leaders the required measure of boldness to make their needs known, and we ask that you would stir the hearts of donors to give sacrificially as an investment in your Kingdom work. Part the high waters of the ocean of pandemic uncertainty, and show them a dry and safe way through to continued life and a future of flourishing for their camp.
Father, as our friends in Christian camping move forward during these difficult and uncertain days, we ask that you would providentially lead them in a path that allows them to maintain their Godly priorities, maintain their dedicated staff, and maintain a strong witness for the Gospel of Jesus Christ. . . in times of both plenty and want. Where priorities should be changed and lessons must be learned, make that clear and give leaders receptive hearts.
Lord, you hold the past, the present, and the future in your hands. We pray that the Christian camps that have served you, your bride, our families, and ourselves so faithfully for so long, would not just survive, but would thrive.
We humbly ask these things in the name of Jesus Christ, our Lord. Amen.