It's been said that a good sermon will comfort the afflicted, and afflict the comfortable. That's certainly what the Word of God does to us. That's what happened for me on Sunday when I was recalibrated (afflicted!) by a sermon on the book of Ezekiel. Perhaps it can happen for you.
Our pastor, Chris Walker, has been preaching on "Shepherding The Flock". In his effort to help us all understand the role that our Elders are to play in our local congregation, Chris took us into Ezekiel 34:1-16, a passage that clearly speaks to any of us who have been called to Shepherd our children and teens in the Christian faith. I was driven to think about my roles as parent, grandparent, youth worker, and trainer of youth workers.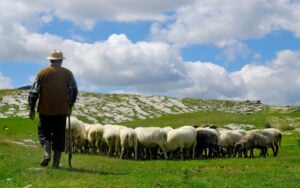 The words of Ezekiel 34 hit hard. Woven in and through the passage's condemnation of the shepherds who were forsaking their duties (thereby exploiting, misleading, and endangering their sheep) and the description of God as the Good Shepherd who rescues and tends to His sheep, are mentions of five shepherding responsibilities that we've all been given as we shepherd our children and teens. I would invite you to give a listen to Chris Walker's sermon (embedded below) and to be recalibrated in ways that prepare you to lead in such a time as this.
What are the five shepherding responsibilities we've been called to fulfill?
First, we are to feed the sheep. We are to put before them a steady diet of God's Word in order to nourish them and bring them to spiritual health.
Second, we are to protect the sheep. Our children and teens are fair game for the many spiritual predators that would harm them through false teaching. They are fair game for assault from the world, the flesh, and the devil.
Third, we are to know the sheep. We must know their particular bents, how they're prone to wander, and the shape of their unique needs.
Fourth, we are to equip the sheep. We must help them to discover the unique gifts and abilities they've been given by God for the building up of one another.
And fifth, we are to be an example to the sheep. As people led by God, we provide examples of what it means to be Godly, to live in dependence on the Lord, and to follow Jesus Christ our Good Shepherd.
The pastures of life in this world are filled with all kinds of dangers and distractions. Our high calling is to love, lead, and shepherd the vulnerable young lambs among us in ways that build up individuals and the church. There's no other parenting on youth worker responsibility that even comes close to being this important.