This morning, I'm thinking about music. . . a map and a mirror as we say here at CPYU. I'm thinking about music because I'm concerned about how music. . . along with everything else our kids marinate in during their 8+ hours a day of daily entertainment screen-time. . . maps our lives.
Kids are vulnerable. They are living in the midst of their greatest arc of developmental change. This means that identities and worldviews are being shaped for both their present and their future.
My concern flamed up this morning as I was driving to the airport. A quick scan of the airwaves left me settled. . . or perhaps more likely "unsettled" – on Oliva Rodrigo's "Good For U". . . a song we put through our 3(D) discernment process when it hit the top of the charts a few months ago. Have you listened to this angry break-up rant?
I'm also thinking about music, media, and our social media world on the heels of meeting with two brand-new CPYU Faith and Culture cohorts that began earlier this week. When we asked participants about their greatest youth culture concerns and youth ministry needs, the theme of developing biblically-faithful discernment and wisdom among kids and their parents came up over-and-over again. In addition, concerns were raised regarding how culture is mapping out identity and worldview for our kids. . . in the wrong direction. All that to say, we've got some work to do.
But I was also reminded this morning that it's not just today's popular music that summons up the need for discernment. Later this morning, I was sitting in the Philly airport waiting for a connection when the airport playlist caught not only my attention, but that of the woman sitting nearby who starting bopping around as she drank her coffee.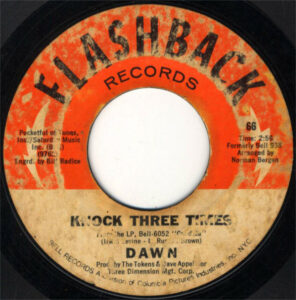 The tune? It was something from the fall of my own freshman high school year way back in 1970. I haven't heard it for awhile, but this time around I paid special attention to the lyrics. . . lyrics which by the way, I have memorized. I will blame my memorization not on any kind of love for the song, but for the fact that it was quite catchy a tune that landed in heavy radio rotation while it sat at #1 on the charts. Time for the embarrassing admission: Tony Orlando and Dawn's "Knock Three Times." Besides being a song about lusty desire, it includes this line that really jumped out at me this morning: "One floor below me, you don't even know me, I love you." Really? It only took me 50 years to catch it. Do we even know what love is anymore?
Consider these words from Paul to the Philippians: And it is my prayer that your love may abound more and more, with knowledge and all discernment, so that you may approve what is excellent, and so be pure and blameless for the day of Christ. (Philippians 1:9-10).
Let's filter everything we see and hear through the lens of God's Word. And, let's do and keep on doing the same with our kids.